Blue Daze, also known as Evolvus or Hawaiian blue eyes, is an annual plant in the family Convolvulaceae. It is native to tropical and subtropical regions of the Americas, Asia, and Africa. Evolvus plants are grown for their attractive foliage and delicate blue flowers that bloom throughout the year in warm climates.
Growing and Caring For Blue Daze
Blue Daze is a hardy plant that is relatively easy to grow, provided it is grown in the right conditions. Ideal conditions for Blue Daze include full sun exposure and well-draining soil. It should receive at least six hours of direct sunlight daily. In our climate, providing some shade during the hottest parts of the day can help prevent the plant from becoming stressed.
Blue Daze prefers moderate moisture levels and it is essential not to overwater the plant. Watering once a week during the growing season is usually sufficient, although this may need to be increased during periods of drought or high temperatures. Overwatering can lead to root rot and other issues, so allowing the soil to dry out slightly between waterings is essential. With the right growing conditions, Blue Daze can thrive and produce a stunning display of blue flowers throughout summer.
Uses in the Garden
Blue Daze is most commonly used as a ground cover. Its dense, low-growing foliage forms a beautiful mat of greenery that helps to suppress weeds and retain soil moisture. Blue Daze is also an excellent choice for attracting pollinators, as its blue flowers provide a valuable source of nectar. Moreover, the plant's ability to thrive in hot, dry conditions makes it an ideal choice for xeriscaping, where water conservation is a priority.
Evolvus Glomeratus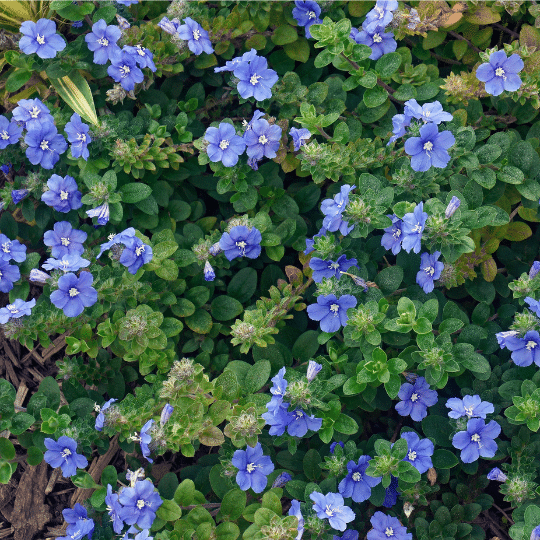 One of the most popular species of Blue Daze is Evolvus glomeratus. This plant is widely grown as a ground cover or border plant in gardens and landscapes. It has small, green leaves and produces clusters of small, trumpet-shaped blue flowers that bloom continuously throughout the growing season. Evolvus glomeratus is a low-maintenance plant that requires minimal care and is tolerant of heat and drought.