Annuals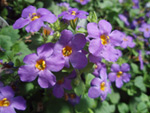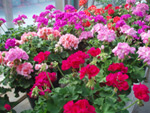 For bold, vibrant colors in beds and containers, annuals are the flower of choice. Annuals are also a favorite for gardening with kids, who swell with pride when the first buds blossom. From summer Petunias and Geraniums, to fall Mums and Pansies and Christmas Poinsettias and winter-blooming houseplants, we offer a wide selection of annual color year round. Experiment with different colors and varieties for a new experience for every season.

Perennials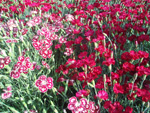 From sun perennials to shade lovers, our wide array of choices provide cycles of color in any garden spot or container. Dry shade? No problem! Want butterflies? We can help!

Herbs & Veggies & Other Edibles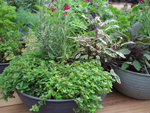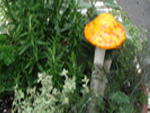 Bring fragrance to your garden and flavor to your kitchen! Even the smallest plot of land can provide enough
space for an assortment of delicious herbs & veggies. Window boxes or potted herbs can fill your home with a wonderful aroma. Experimenting with fresh herbs from your own garden is an exciting way to broaden your culinary horizons.  We also sell over 10,000 2-inch veggie starter plants each year, plus amazing strawberries, raspberries, blackberries & blueberries to name a few edibles.  Yum!

Shrubs and Trees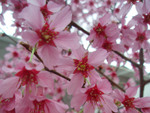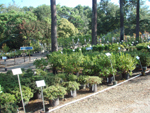 Shrubs and trees can add color, height and privacy to your garden. From showy flowering bushes to structured hedges, shrubbery can be used to create garden "rooms", delineate paths, or skirt the foundation of your home.  We carry a huge selection of showy hydrangeas, spring and fall blooming azaleas, and amazing pieris and rhododendron.
We have an entire hill dedicated to evergreen shrubs for foundation plantings for aesthetics as well as hedges to keep out the nosy neighbors and the unwanted aesthetics that some less desirable neighbors produce.  We have another hill dedicated to seasonal plants for showy flowers and fall colors.   And, did I mention blueberries, raspberries and blackberries, oh my.
Trees provide flowers and foliage that make spring, summer and fall unique and beautiful seasons. We offer a variety of low canopy trees, like Dogwoods and Crape Myrtles, to give your landscape another level of interest and enjoyment.  We also provide larger shade trees such as sugar maples, oaks and elms.  Of  course, we provide varieties of southern magnolias … after all, it is the south!
Our selections represent the best of modern varieties and time-tested garden performance.

Container Gardens, Living Centerpieces and Living Bouquets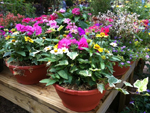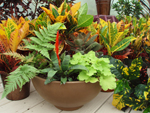 Liven up your living space or romanticize your room with beautiful plants in unique containers. Pre-planted containers are available but we also offer customized services to make YOUR container the way YOU want it. Choose from our wide selection or ornamental pots and urns, and talk to one of our gardening experts for tips on how to provide proper drainage and nutrients. From classic containers, to extravagant centerpieces, to eclectic one of a kind finds , these beautiful gardens are also perfect for porches and decks, and they make wonderful gifts.

Houseplants and Tropicals
Experience bold color and texture in one of the largest indoor greenhouses in the Upstate! Palms, ferns, orchids and other colorful blooming plants and foliage favorites thrive in warm comfort, giving you plenty of design choices for special parties and home decorating.
Love terrariums? We also offer a large selection of tiny plants that are perfect for these fashionable glassware gardens.  We also stock all the supplies you'll need to create an amazing terrarium.

Soil, Fertilizer and Chemicals
The key to the success of any garden starts with the soil.  We carry a full line of quality soil and soil amendments including specialized soil for seeds.
Fertilizing plants regularly and in accordance with their seasonal and plant specific needs can make the difference between a so-so plant season, and a super duper spectacular season.  We carry several different lines of fertilizers to meet all gardeners needs, as well as specialty fertilizers ranging from uses for orchids to growing plump and juicy tomatoes.
For the fungus among us, and other plants problems such as pesky insects, disease and rodents, see our herbicides, fungicides, miticides and rodenticides.

Pots, Plant Accessories and Gardeners Tools
Looking for that perfect pot or quality metal basket or even a watering wand or pruner … we stock quality gardeners tools and plant accessories that last.  It's a matter of price versus cost … you can buy cheap tools and gloves and accessories that last one week or maybe one season, but that will cost you more over time.  Or, you can invest in good quality items now to last you for years to come.
As for pots, we stock all shapes and sizes and colors to add zing to your plant-ing. Pots are personal, so we carry varying styles to appeal to all tastes.  Conservative to colorful, simple to silly, we have pots, pots and more pots.

Gifts
When plants just won't do … and we don't know when that is, but just for argument's sake go with us here … we also feature other gifts for the discerning customer.  Carruth Garden home and garden sculptures, the Naked Bee hand and body lotion, Pre de Provence soaps, Corinthian Bells chimes, Jelly Bean welcome mats, Cole's Bird Feed, The Plant Nanny watering spikes, plus a plethora of other fun gift ideas for the "plant abhorist" in your life.  And, yes, we just made up that term because we simply can't fathom someone who wouldn't appreciate a living centerpiece or living bouquet or simply a single plant as a gift.  But, then again, we love our work.