In this third generation of owners, we carry on the tradition built for over 50 years of serving the Upstate with quality indoor and outdoor plants, and garden accessories. We want to provide you with the best customer service possible. Please contact us at 864-277-1818 to let us know how we can better serve you.
Meet the Team:
Reggie, CIO – As the Chief Inspiration Officer (CIO) at Martin Garden Center, Reggie promotes creating "things of beauty." Her specialty is shade garden combination plantings and incorporating unique specimens into landscape plans. Herb'n gardening makes her toes tingle and she insists that she never met a Basil she didn't like. Making Martin Garden Center into a Greenville destination is her goal.
Scott, Facilities Manager and the Tree Dude – From his background running tree farms, Scott adds amazing tree and shrub knowledge and experience to Martin Garden Center. Furthermore, as the Facilities Manager at Martin Garden Center, he is the glue (and the spit and the bubblegum) that keeps everything together. Thanks to Scott, the years of cascading equipment failures has ended, and our operations now proceed smoothly. Tree Dude and Smooth Operator … who could ask for more?
Sam, Operations Manager – Sam comes to us with a background in Biology and Plant Evolutionary Biology. Basically, he's a plant nerd. He can help you understand everything you need to know to successfully grow plants of all kinds. While he specializes in orchids, Sam really knows his stuff in a wide variety of all species of plants. Sam helps people identify their own relationships with plants.
Bobby, Greenhouse Manager – Bobby consistently receives the "Most Helpful" award at Martin Garden Center. When others need help, Bobby is almost always the first to respond and sometimes is the only one to respond. Bobby has a passion for plants, owning many at his home and adding regularly from Martin Garden Center and other shopping venues. His creativity in designing homes as his side job helps him design with plants at Martin Garden Center and for that we are all thankful.
Mary Beth, Chief Creative Officer – Creating living designs is Mary Beth's passion. She enjoys inspiring novice and seasoned gardeners to try new and different plants to enhance their garden. You can generally find her up to her derriere in potting soil or explaining watering 101 to new customers who don't always understand how imperative it is to not water their new shrub daily when it's hot. She believes that you must have a sense of humor to be a good gardener … or to work with those who are. She is also the lead landscape designer for Martin Garden Center. And while she only works part time and seasonally, she still is our go to
Linda, the Pot-Up Queen – Coming from a background of having owned her own specialty store, this semi-retired maven of style lends her diverse experience and her energy to Martin Garden Center in inspirational ways, from teaching customers how to tend to Easter grass to helping customers find JUST the right color blooms. Is it blue? Is it purple? The correct answer according to Linda … it's the color you decide.
Madelyn, Ruler of Retail – Though her first day of work involved and all-day cleaning of debris from our metal grates throughout the nursery, she persevered and quickly moved up in the ranks. The amazing pegboard and bin storage redesign of retail is all to her credit, as well as re-organizations of storage areas in our storeroom and at Camelot. Her organizational skills are overshadowed only by her amazing design aesthetic. She helps customers step outside of their comfort zone to create an amazing piece of art. From custom door swags to gorgeous table-top designs, Madelyn rules!!!
Emily, Shrub Master – For 5+ years, Emily has been an incredibly talented designer at Martin Garden Center. From amazing landscapes to gorgeous pot-ups, from wreaths (who can forget her white collection of 2020) to porch pots, Emily knows design. Now as the Shrub Master, Emily takes care of one of our largest departments, but is still available for design consultations for those customers requiring a little Emily magic.
Sara, Junior Grower. Sara came to us with a passion for organization, and has quickly grown into the leader for our Production and Grumpy's growing areas. Sara has the most gentle nature that even our plants are responding positively, making this growing year the best ever.
Bec, Perennials Manager. The Bec is back. Despite leaving for a better paying job in the air conditioning, Bec has returned to resume her role in Perennials … at least for now. Bec always has a smile on her face, which makes her a wonderful customer support specialist.
Joan, Product Maven – Joan and her husband moved to SC from Wilkes-Barre, Pennsylvania three years ago to be closer to their three grandsons. Little did Joan realize at the time that gardening in SC is twelve months a year. She went from taking care of patients as a registered nurse to working at Martin's and caring for plants. She loves container gardening, herbs, and perennials. Her favorite job is providing clients with ideas in the retail area and introducing them to our products.
In Memorium …Pat, Mother Earth – December of 2021, we said goodbye to Pat, our Mother Earth, as she succumbed to cancer. Pat loved gardening all her life. She strongly believed in growing organically and in growing native plants. A master gardener since 1995, Pat was a fountain of knowledge. Having owned several small businesses, including monograming, garden design, BBQ and catering, she was a great resource at Martin Garden Center. One of her passionate hobbies was raising monarchs and she often brought her newly hatched monarchs for a "nursery release." Pat believed in plant and animal consciousness and stands firm that "we are all connected". Hence the very-fitting "Mother Earth" title. Gone but not forgotten.
Here's more about us: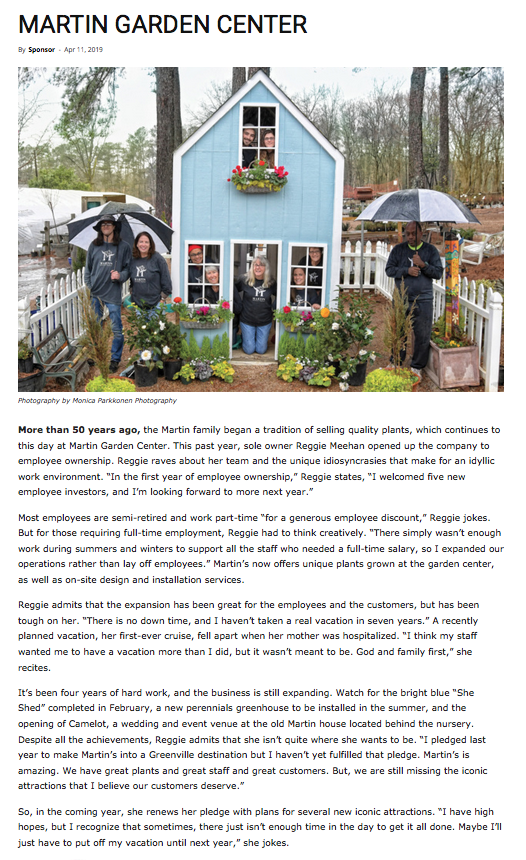 ---