In this third generation of owners, we carry on the tradition built for over 50 years of serving the Upstate with quality indoor and outdoor plants, and garden accessories.  We want to provide you with the best customer service possible.  Please contact us at the phone number above to let us know how we can better serve you.
Our customer care team includes:
Reggie, CIO – As the Chief Inspiration Officer (CIO) at Martin Garden Center, Reggie promotes creating "things of beauty."  Her specialty is shade garden combination plantings and incorporating unique specimens into landscape plans.  Herb'n gardening makes her toes tingle and she insists that she never met a Basil she didn't like. Making Martin Garden Center into a Greenville destination is her goal.
Mary Beth, Chief Creative Officer – Creating living designs is Mary Beth's passion. She enjoys inspiring novice and seasoned gardeners to try new and different plants to enhance their garden. You can generally find her up to her derriere in potting soil or explaining watering 101 to new customers who don't always understand how imperative it is to not water their new shrub daily when it's hot. She believes that you must have a sense of humor to be a good gardener … or to work with those who are.
Linda, the Fashionista – Coming from a background of having owned her own specialty store, this semi-retired maven of style lends her diverse experience and her energy to Martin Garden Center in inspirational ways, from teaching customers how to tend to Easter grass to helping customers find JUST the right color blooms.  Is it blue? Is it purple?  The correct answer according to Linda … it's the color you decide.
Pat, Mother Earth – Pat is one of those early ones… She easily admits that she has loved gardening all her life. She strongly believes in growing organically and in growing native plants. A master gardener since 1995, Pat is a fountain of knowledge.  Having owned several small businesses, including monograming, garden design, BBQ and catering, she is a great resource at Martin Garden Center.  Her passionate hobby is raising monarchs and she often brings her newly hatched monarchs for a "nursery release".  Pat often explains her belief in plant and animal consciousness and stands firm that "we are all connected". Hence the very-fitting "Mother Earth" title.
Joan, Retail Plant Therapist – Joan and her husband moved to SC from Wilkes-Barre, Pennsylvania three years ago to be closer to their three grandsons, ages 4, 3,and 2. Little did Joan realize at the time that gardening in SC is ten months a year. She went from taking care of patients as a registered nurse to working at Martin's and caring for plants. She loves container gardening, herbs, and perennials. Her favorite job is providing clients with ideas in the retail area and introducing them to our products.
Pat, Affectionately Known as "Pat Number Two" – Pat has been a Martin's customer for many, many years and working at Martin's has been on her "bucket list for a long time". Pat was a nurse and an educator and when she retired, Pat continued her passion for life and learning by becoming a master gardener and joining the team at Martins. Now, she feels she has the best of all worlds. Joy! Life is good!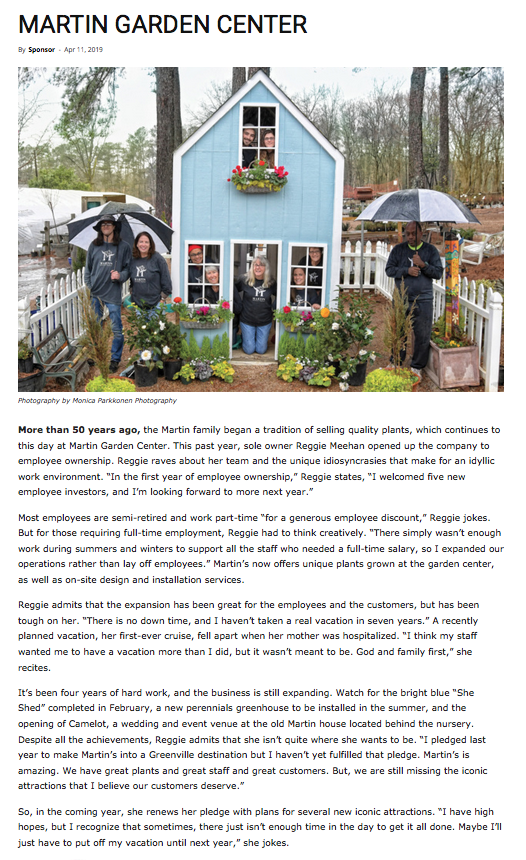 ---