Martin Garden Center Gift Cards are available for purchase online!  Yay!!!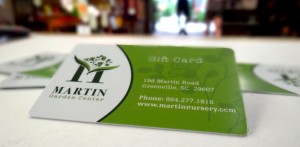 Before purchasing, determine whether you wish to have your gift card mailed, or simply have your recipient pick it up at Martin Garden Center.  If you choose to have the gift card mailed, you must know the mailing address of your recipient and you must enter it into PayPal where it asks for the Shipping Address.  You may also enter a personal message that we will then include on a note attached to your gift card.  If a personal message is not provided at checkout, we will include a note that specifies "[Your Name] purchased you a $[Amount] gift card to enjoy during your next visit to Martin Garden Center!"
Select your amount using the buttons below.  DON'T FORGET to include your recipients name.  Examples include:
Jane Smith, Happy Birthday Jane, love Sally & Mike
Sally & Mike Cooper, You're the best neighbors ever, Jane
Santa Claus, Merry Christmas, thanks for all the goodies, now enjoy your garden during your long break, Mrs. C.
For other denominations, please contact us at 864-277-1818 during our normal business hours.
Gifts NOW … made easy at Martin Garden Center!