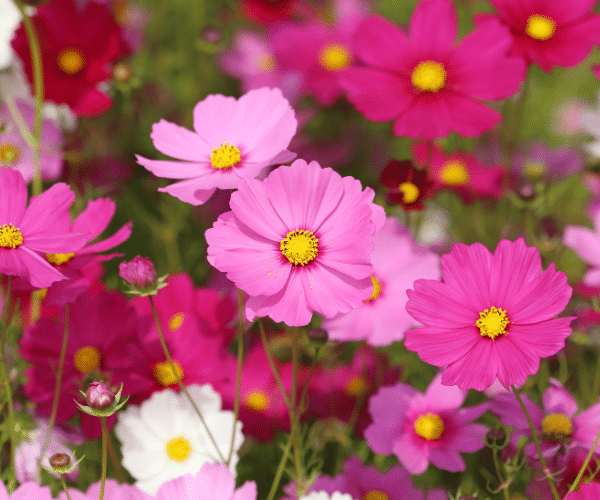 Cosmos is a genus of about 20 species of annual and perennial plants belonging to the Asteraceae family. These plants are native to Central and South America. Cosmos are beloved for their vibrant, daisy-like flowers and feathery, fern-like foliage.
Growing and Caring for Cosmos
Cosmos thrives in full sun and well-draining soil, and they are pretty tolerant of various soil types, including poor or sandy soils. Regular watering is essential during the early stages of growth to help establish the plants, but once established, Cosmos are relatively drought-tolerant and can withstand dry conditions.
These plants generally don't require fertilization; however, adding a balanced, slow-release fertilizer at the time of planting can help promote healthy growth and blooming. Staking may be necessary for taller cosmos varieties to prevent them from flopping over during windy conditions. Cosmos plants are relatively pest-resistant, but it's still a good practice to monitor for any signs of pests such as aphids or caterpillars, and address them if necessary.
In terms of pruning, removing any yellowing or dead foliage can help maintain the plant's overall appearance and improve air circulation. Deadheading spent flowers encourages continuous blooming and prevents the plants from going to seed too quickly. Cosmos also have natural self-seeding tendencies, which means they may come back in the same area the following year if allowed to drop their seeds.
Leaves and Flowers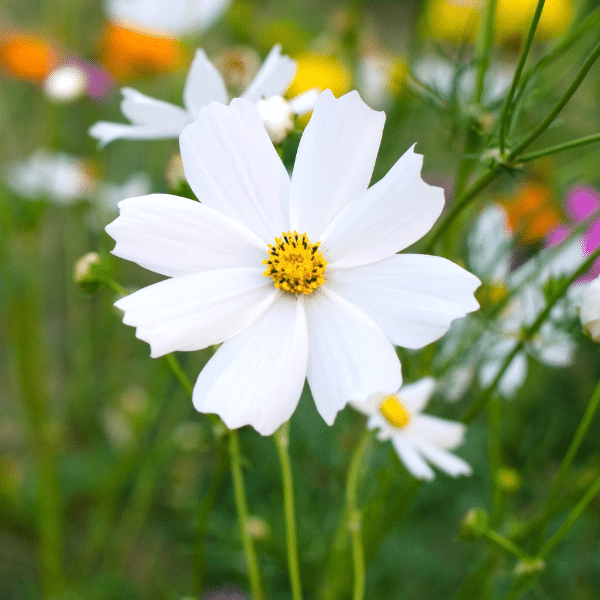 One of the most striking features of Cosmos is its leaves. They are typically pinnate, with narrow, feathery leaflets that give the plant a light and airy appearance. The leaves are arranged in alternately along the stem and are often a vibrant green color. Some species of Cosmos also have deeply lobed leaves, giving them a unique and intricate appearance.
The flowers are borne on long, slender stems that can grow up to 3 feet in height and are available in a wide range of colors, including white, pink, red, orange, and yellow. The flowers have a central disk surrounded by ray flowers, which can be either single or double. The flowers typically bloom in mid to late summer and can continue blooming well into fall. Cosmos make great cut flowers and can be added to mixed bouquets all season long.
Uses in the Garden
One common use for Cosmos is as a border plant, as the tall stems and vibrant flowers can create a striking border for a garden bed. They are also commonly used in cottage gardens, where their light and airy appearance can create a whimsical and romantic atmosphere. In addition, Cosmos attracts various beneficial insects, such as bees, butterflies, and hoverflies. It is also deer resistant, making it a good choice for gardens frequented by deer.
At Martin Garden Center, Cosmos are often found as bedding plants and consequently these very inexpensive plants go a long way. They may also be grown from seed sown after the threat of frost. They enjoy regular fertilization to keep them blooming. Remove the first bloom to promote bushing. Remove additional spent blooms to keep the plant blooming and bushing.