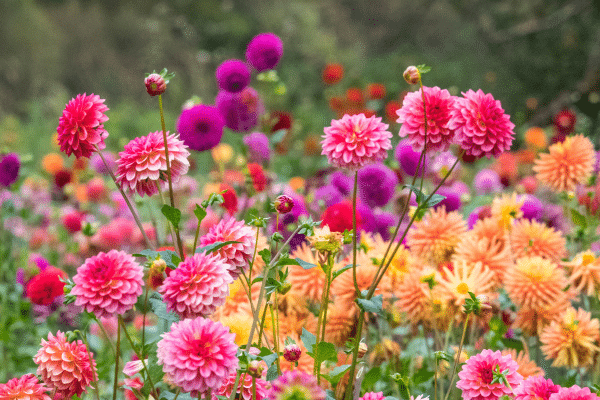 Dahlia is a genus of flowering plants that belong to the Asteraceae family. This group of plants has around 42 species that can vary in size, shape, and color. Dahlias are native to Central America, but they can be found growing all over the world. Dahlias can grow up to six feet tall.
Caring for Dahlia
When planting Dahlias, choose a sunny location with well-draining soil. Make sure to provide support for taller varieties to prevent them from flopping over as they grow. Regular watering is crucial during the growing season, particularly during hot and dry periods, as dahlias require lots of water. Applying mulch around the base of the plants can help retain soil moisture and suppress weed growth.
Deadheading spent flowers encourages continuous blooming and redirects the plant's energy toward producing new blooms. Additionally, disbudding and removing extra side buds can result in larger and more impressive individual flowers. Dahlias are also susceptible to pests like aphids and slugs, so monitoring for signs of infestation and taking appropriate measures is essential for care.
Leaves and Flowers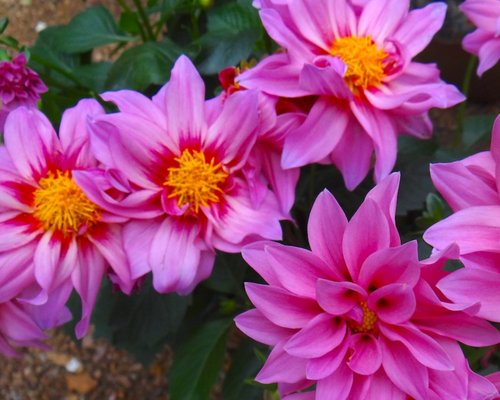 The leaves of the Dahlia plant are dark green and can grow up to six inches long. They typically have large flowers which can range in size from two inches to twelve inches in diameter. The flowers can be single or double, with a variety of shapes, including pom-pom, cactus, and waterlily. Dahlia plants come in bright colors and they can also have multicolored petals.
Popular Varieties
Dahlias exhibit an astounding diversity of varieties, each characterized by its unique size, shape, color, and form. From diminutive pompons to dinner-plate-sized blooms, the range of dahlia varieties allows gardeners to express their creative flair and cater to various aesthetic preferences.
Pompon dahlias feature small, rounded flowers with tightly packed petals resembling fluffy pompoms. These charming blooms are often multicolored, creating a playful and cheerful atmosphere in gardens and floral arrangements.
Decorative dahlias showcase large, intricate flowers with broad petals, producing a captivating display of colors and patterns. Their diverse forms range from perfectly symmetrical to slightly irregular, offering an array of options for garden design.
Cactus dahlias possess striking, spiky petals that give them a unique and dynamic appearance. Their flowers can be either open-centered or more tightly packed and come in various colors.
Ball dahlias feature globe-like flowers composed of tightly clustered petals, creating a captivating textured look. Their compact size and attractive form make them popular for garden beds and containers.
Dinner-plate dahlias, as the name suggests, produce enormous blooms that can reach up to a foot in diameter. These impressive flowers often become the centerpiece of garden displays, with their grandeur adding a touch of drama and elegance.
From the dainty and whimsical to the grand and awe-inspiring, the diverse dahlia varieties can be used to complete every gardener's vision, allowing for endless creativity and visual impact in garden landscapes and floral arrangements.