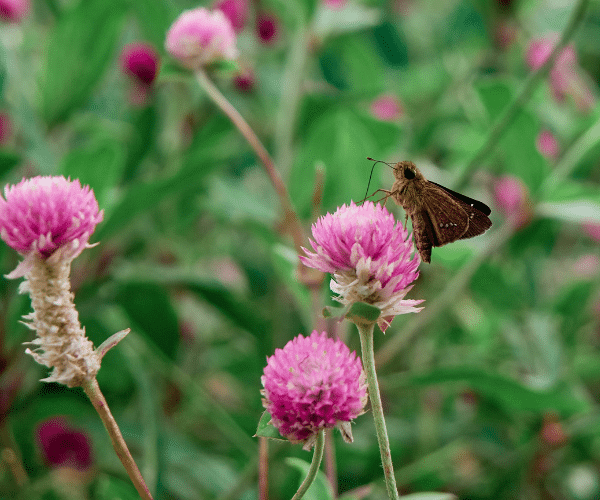 Gomphrena, also known as Globe Amaranth, is a genus of annual and perennial plants that produce unique and eye-catching flowers in shades of pink, purple, white, and red. Originally native to Central and South America, Gomphrena plants have gained popularity worldwide due to their hardiness, drought tolerance, and beauty. With their distinctive globe-shaped flowers, Gomphrena plants are a favorite among gardeners.
Growing and Caring for Gomphrena
Gomphrena needs to be planted in a location that receives full sun; these plants require at least 6 to 8 hours of direct sunlight daily to produce their vibrant and long-lasting blooms. They should be spaced over 12 inches apart, as they can grow up to 2 feet tall and 1 foot wide. Gomphrena prefers well-draining soil enriched with organic matter, ensuring that the plant's roots have adequate moisture without becoming waterlogged.
Caring for Gomphrena involves consistent moisture management. While it can tolerate drought conditions once established, regular watering is necessary during dry periods, especially when the plant is young. Applying a layer of mulch around the base of the plant helps retain soil moisture and suppress weed growth. Gomphrena is relatively low-maintenance and typically doesn't require frequent fertilization.
Leaves and Flowers
The flowers of Gomphrena plants are distinctive and easily recognizable, as they resemble small globes or buttons that grow in clusters along the stems of the plants. The flowers can be pink, purple, white, or red and bloom from early summer until the first frost. The foliage of the plants is also attractive, with oval-shaped leaves that are typically green, although some varieties may have variegated foliage.
Gomphrena provides showy flowers … and get this … they never need to be dead-headed. That's right, they don't require dead-heading. And, they bloom from spring till first frost. This makes Gomphrena the hardest working annual in your garden!!!
Gomphrena also make excellent cut flowers and, when dried, can last several years. As if you needed more reasons to grow this wonderful annual flower.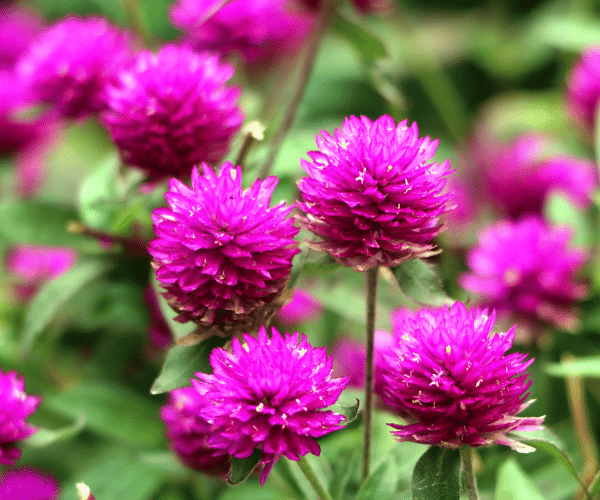 Popular Varieties
At Martin Garden Center, we carry several different varieties of Gomphrena in the spring. The "Ping Pong" series has white, pink or purple globes and this cultivar ranges from 8-12 inches in height. This past year, one of our customers came in and bought 65 of the purple variety. WOW.
We also carry Proven Winner Truffula Pink Gomphrena, which grows 22-28 inches in height. And, after several years of searching for Strawberry Fields Gomphrena and being thwarted because none of the growers in our area carry it, we bought seeds so that 2024 will see the gorgeous red blooms of Gomphrena haageana, or Strawberry Fields.
We are finding that Gomphrena are gaining in popularity. In 2023, we sold out rather quickly and we could not locate Gomphrena from our vendors. So if you want this easy to care for prolific blooming plant that makes and excellent cut flower, shop in the early spring.