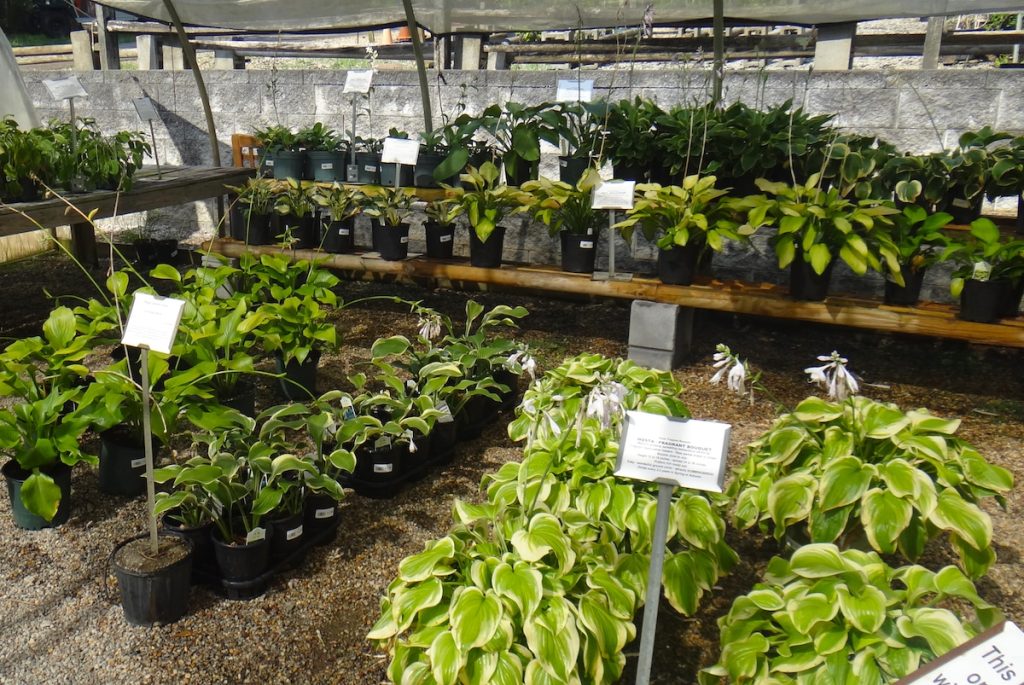 Hostas are a popular and versatile plant known for their lush foliage and easy care. They are a favorite among gardeners and landscapers alike for their beautiful colors, interesting textures, and wide range of sizes and shapes. Martin Garden Center sells over 1000 Hosta each year.
Hostas come in many different sizes and shapes, with over 3,000 cultivars available. They range in size from miniature varieties that only grow a few inches tall to large varieties that can grow up to 4 feet in height and spread up to 6 feet wide. Hostas typically have a mounded or spreading shape, with leaves growing in a rosette pattern from a central crown.
Hosta leaves come in a wide range of shapes and sizes. The leaves can be large or small, heart-shaped or lance-shaped, and typically have a smooth or textured surface. The color of hosta leaves ranges from deep green to blue-green, yellow-green, or variegated with white or gold. Some varieties have leaves with interesting variegation patterns, such as stripes or spots.
Hostas produce attractive flowers on tall, slender stalks in late spring to mid-summer. The flowers are typically bell-shaped and can be white, lavender, purple, or blue. Hosta flowers are often fragrant. However, some gardeners prefer removing the flowers to encourage more robust growth of foliage.
These shrubs prefer a partially shaded location with well-draining soil. They do best in areas that receive morning sun and afternoon shade. If planted in too much sun, hostas can become stressed and wilt. They should be watered regularly but only require a moderate fertilizer every 6 months. Easter and Thanksgiving are good dates to apply a slow-release fertilizer like Fertilome Garden Cote 6 or Espoma Holly Tone. This will keep your hosta growing and expanding. Too much fertilizer can lead to excessive leaf growth, making the plant susceptible to pests and diseases.
Hostas can be used as a ground cover in shady areas where grass won't grow. Plant them close together to create a lush, green carpet. They also can be used to complement other plants in your garden. They look great when planted alongside ferns, heucheras, and other shade-loving plants. In addition, Hostas can be grown in containers, making them an excellent choice for patios, decks, and other outdoor spaces. Choose a large container and fill it with well-draining soil.
Some varieties that we carry include:
Hosta 'Abiqua Drinking Gourd' – Medium-large puckered, powder-blue leaves with chalky undersides are uniquely upward facing and deeply cupped. White flowers bloom midsummer; very slug resistant. 22″H
Hosta 'August Moon' – Medium-large, round corrugated golden leaves under near white flowers. 20"H
Hosta 'Blue Angel' – Giant, heart-shaped blue-green heavily textured leaves under dense hyacinth-like white flowers. 36"H
Hosta 'Brother Stefan' – Large; heavily corrugated and puckered leaves that are blue-green with a bright gold center. Near white flowers are loved by hummingbirds and will appear in early summer. Thick leaves are more slug resistant. 20″H
Hosta 'Bulletproof' – Medium; the name Bulletproof comes from its extremely thick and rubbery blue leaves that are slug resistant. The blue color holds all season long. Lavender flowers appear in midsummer. A tetraploid sport of Hosta Halcyon. 13″H
Hosta 'Cherry Berry' – Small but very colorful! Narrow lance-shaped white centered leaves with green margins and streaked with white flames; bright red petioles, red scapes, and bright red seed pods add color. Lavender flower bloom mid-late summer. 10″H
Hosta 'Curly Fries' – Small, miniature arching mound of shiny yellow-green curly and twisted narrow leaves; 10"H
Hosta 'Dancing Queen' – Medium; the foliage of Dancing Queen will emerge and stay yellow throughout the summer unlike other similar varieties that eventually turn green. Yellow color is most intense in part sun; leaf edges are ruffled for added interest. Lavender flowers bloom in late summer. 18 in
Hosta 'Earth Angel' – Giant; this spectacular new sport from Blue Angel has huge blue-green pointed leaves with wide creamy white margins. Thick leaves have good substance and deep attractive ribs. Pale lavender flowers bloom midsummer. Very impressive mature clumps can reach 5' across. 30"H
Hosta 'Elegans (sieboldiana)' – Giant heart-shaped heavily puckered blue-gray leaves are pest resistant. Near white flowers on short scapes. 30"H
Hosta 'Fire and Ice (fortunei)'- Medium-large heart-shaped white leaves with wide dark green edge and lavender flowers. Reverse of Patriot. 20"H
Hosta 'Fire Island' – Medium; spectacular bright gold foliage will contrast dramatically against red petioles and speckles of red reach into the base of the leaves. Lavender flowers bloom midsummer; Vigorous growing variety that prefers shade. 12"H
Hosta 'Forbidden Fruit' – Large. A tetraploid sport of Orange Marmalade. Forbidden Fruit has blue-green edges with a golden-orange center. Thick leaves help deter slugs and hold the foliage color all summer. Perfect for borders and containers, very vigorous. Lavender flowers in midsummer. 20"H
Hosta 'fortunei Aureomarginata' – Medium; dark green with golden-yellow edge and lilac flowers. 20"H
Hosta 'Francee' – Medium-large; dark green leaves with narrow white edges and lavender flowers; sun tolerant. 20"H
Hosta 'Frances Williams' – Large; heavily puckered blue-green leaves with wide irregular yellow edge and white flowers. 22"H
Hosta 'George Smith' – Medium to large, sport of 'Elegans'. Gold-centered leaves with wide, blue-green margins are heart shaped and heavily puckerd. Near white flowers in early spring. 22"H
Hosta 'Gold Standard' – Medium-large; light green turning gold in summer with dark green edge and lavender flowers. 25"H
Hosta 'Golden Tiara' – Medium; a Hosta with a tidy dense form of heart-shaped green leaves with chartreuse-yellow margins. Showy purple flowers appear in summer; tolerant of dry soils. 16"H
Hosta 'Great Expectations (sieboldiana) – Giant; Great Expectations was named for the fact that it is slow growing but eventually turns into a great specimen. Large puckered yellow-edged leaves with wide blue and green margins are worth the wait! White flowers appear in midsummer; slug resistant too. 24"H
Hosta 'Guacamole' – Medium-large; shiny round leaves with gold center and wide green edge under large fragrant lavender flowers. Rapid grower; sun tolerant. Sport from Fragrant Bouquet. 22"H
Hosta 'Halcyon' – Medium; spearhead-shaped chalky-blue leaves with heavy ribbing and pale lavender flowers. Thick substance, pest resistant, tolerates partial sun. 20"H
Hosta 'Hans' – Sport of Hosta 'Andrew'; corrugated, puckerd and folded leaves with broad creamy centers and wide blue-green margins. Apple green brushstrokes and pale lavender flowers appear late summer. 21"H
Hosta 'Island Breeze' – Medium, improved sport of 'Paradise Island', wide, dark green margins stand in sharp contrast to the bright yellow centers in early spring, centers become more chartreuse in summer, showy red speckled petioles bleed up into the leaves, dark lavender flowers in summer. Hosta of the Year 2022! 12"H
Hosta 'June' – Small-medium; spearhead-shaped leaves with irregular blue-green edges, chartreuse centers fading to white; lavender flowers. Heavy substance, slug resistant; tolerates partial sun. 15"H
Hosta 'Krossa Regal' – Very large gray-blue hosta forms a vase-shaped mound that becomes wider with maturity, wavy blue-green foliage, lavender flowers mid to late summer, slug resistant. 30"H
Hosta 'Lakeside Cupcake' – Mini; forms rounded mounds of heavily cupped and corrugated blue-green leaves with gold centers in spring; mature to white in summer. Excellent substance with lavender flowers. 5"H
Hosta 'Lakeside Paisley Print' – Small; 6″ heart-shaped leaves develop distinct markings that resemble white feathers placed on the center rib of the wavy edged deep green leaf; 24″ scape of lavender flowers bloom mid-late summer. 12"H
Hosta 'Liberty' – Large, sport of Sagae, large blue-green foliage with wide irregular yellow margins, yellow edges mature to creamy white by summer, more upright vase-shaped growth habit, heavy substance offers good slug resistance, lavender flowers. 24"H
Hosta 'Loyalist' – Medium; reverse variegation sport of 'Patriot'. The center is nearly pure-white and the margins are deep green. There is a lighter green streak where the leaf center and margin overlap. Pretty lavender blooms appear on creamy white stems in midsummer. 12"H
Hosta 'Night Before Christmas' – Large; pointed dark green leaves with narrow white centers under pale lavender flowers. Slightly wavy with heavy substance; more upright growth. 26"H
Hosta 'Paradigm' – Medium; chartreuse-gold leaves have wavy blue margins. The variegation will darken as season progresses; leaves are thick and corrugated which makes them slug resistant. Lavender flowers appear in summer. 20"H
Hosta 'Patriot' – Medium-large; dark green oval leaves with pure white margins under lavender flowers. Nice color all season; sun tolerant. 22"H
Hosta 'Paul's Glory' – Medium; chartreuse heart-shaped leaves changing to bright gold to white with narrow irregular blue-green margins under pale lavender flowers. Very colorful with good substance. 25"H
Hosta 'Praying Hands' – Medium; very unique hosta forms clumps of upright facing foliage; the upright narrow leaves remain curled and have a thin creamy edge along the wavy margins under pale lavender flowers. Very unique appearance. 20"H
Hosta 'Queen Josephine' – Medium; smooth, glossy and round green leaves are edged with yellow margins that will turn to cream in summer under purple flowers that appear midsummer. 16"H
Hosta 'Rainforest Sunrise' – Small; slightly cupped, corrugated leaves have florescent gold centers and deep green margins. Thick substance and very slug resistant; a strong grower with bright summer color. 10"H
Hosta 'Regal Splendor' – Giant; summer leaves are frosty blue with creamy yellow to white margins, leaves have good substance. Lavender flowers on tall 4-5′ scapes. 25"H
Hosta 'Royal Standard' – Medium; glossy apple-green leaves with attractive ribbing under fragrant white flowers on 36″ scapes. Very sun and drought tolerant. 18"H
Hosta 'Snake Eyes' – Large, a sport of 'Striptease' that has a more prominent white line between margin and center. Fast grower with lavender flowers. 24"H
Hosta 'Stained Glass' – Medium; a sport of Guacamole with similar look and growth but with brighter variegation. Large 10″ brilliant gold leaves with wide dark green margins; variegation appears early and last throughout the growing season. Deep veins give it a stained glass look. Large fragrant pale lavender flowers. 15"H
Hosta 'undulata Albomarginata' – Medium; landscaping standard. Green leaves with white margins under lavender flowers. 18"H
Hosta 'Victory' – Giant; huge heart-shaped shiny green leaves with yellow margins. Excellent substance, more upright and arching growth habit. Light lavender flowers bloom on exceptionally long arching scapes. 34"H
Hosta 'Vulcan' – Medium; a sport of Captain Kirk. The white centers boldly contrast with the dark green margins, chartreuse streaks appear between the white and green of each leaf, a vigorous grower with lavender flowers that appear in summer. 22"H
Hosta 'Warwick Comet' – Medium size variety. Corrugated, cupped leaves are dark green with a gold center; center will become creamy-white in late summer. 18"H
Hosta 'Wide Brim' – Medium; heart-shaped green leaves with wide irregular creamy-yellow margins. Good substance with slight puckering under pale lavender flowers. 20"H