We are pleased to have the opportunity to offer three varieties of dinner plate iris as tubers:
Iris ensata Dinner Plate Eileen's Dream (AKA Blueberry Pie)
Iris ensata Dinner Plate Harlequinesque (AKA Tiramisu)
Iris ensata Dinner Plate Ice Cream
These Dinner Plate Japanese Iris span 6-8″ across and make great cut flowers. Even their foliage provides interest as they are thought to resemble samurai swords. These plants are hardy in zones 4-9, and average 30-36 inches in height. They prefer 4-6 hours of sun and moist soil. They tend to bloom in early summer after other iris cultivars have finished blooming.
We will only have 25 tubers of each. First come, first serve. Each Division 1 tuber is priced at $6.49, or pay $17.99 for a one gallon container in the spring.
Descriptions of each follow: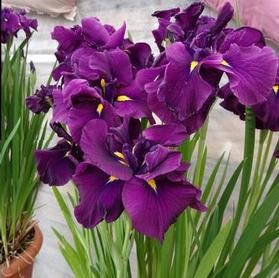 | | | | | | |
| --- | --- | --- | --- | --- | --- |
| Tuber | Variety | Size | Price | Height, Bloom Size, & Other Info | Zone Info |
| Iris ensata Dinner PlateTM | Eileen's Dream (AKA Blueberry Pie) | 1 div | $6.49 | 30-36″ height, Purple bloom with yellow signals | Zones 4-9 |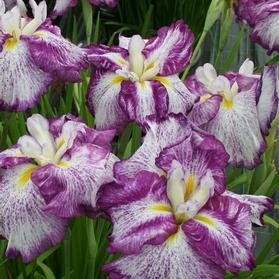 | | | | | | |
| --- | --- | --- | --- | --- | --- |
| Tuber | Variety | Size | Price | Height, Bloom Size, & Other Info | Zone Info |
| Iris ensata Dinner PlateTM | Harlequinesque (AKA Tiramisu) | 1 div | $6.49 | 30-36″ height, White with splashes of purple, maroon, and blue; yellow throat | Zones 4-9 |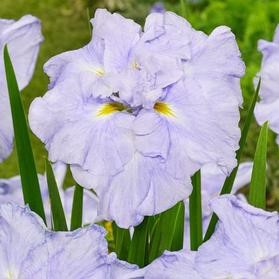 | | | | | | |
| --- | --- | --- | --- | --- | --- |
| Tuber | Variety | Size | Price | Height, Bloom Size, & Other Info | Zone Info |
| Iris ensata Dinner PlateTM | Ice Cream | 1 div | $6.49 | 30-36″ height, Periwinkle blue blooms often with white margins; yellow throat. | Zones 4-9 |