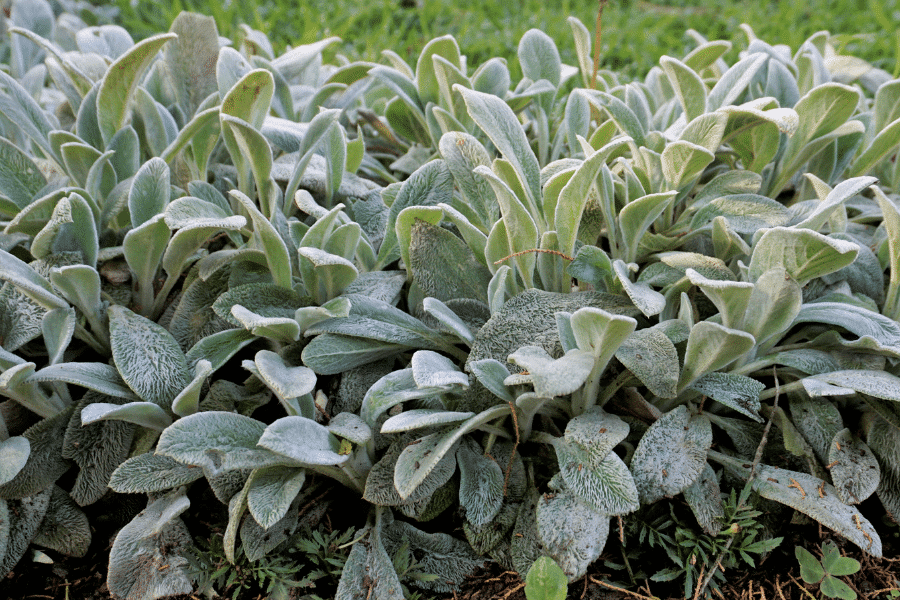 Lamb's Ears, also known as Stachys byzantina, is a popular perennial plant native to Turkey, Iran, and Armenia. It belongs to the mint family, Lamiaceae. Lamb's Ears is known for its soft, velvety leaves, which give it a unique and attractive appearance.
Leaves and Flowers
The leaves are the most captivating feature of Stachys, resembling a lamb's ears. These leaves are silver-gray or green-gray and densely covered in fine, downy hairs that create a delightful texture, giving rise to the plant's endearing nickname. These fuzzy leaves serve a functional purpose, helping the plant conserve moisture and protect it from excessive sunlight.
In addition to its eye-catching foliage, Stachys produces lovely flowers that emerge in upright spikes, rising above the foliage in elegant clusters. These spikes can reach varying heights, depending on the specific Stachys variety. The flower colors range from soft shades of pink and lavender to more vibrant purples and magenta. The individual flowers are tubular and often feature two lips, giving them a distinctive appearance. These charming blooms also attract pollinators like bees and butterflies.
Preferred Growing Conditions

Lamb's Ears can survive in temperatures as low as -20 degrees Fahrenheit, though they prefer full sun. These plants can tolerate partial shade, but insufficient light can result in leggy growth and less vibrant foliage. They tend to flourish in average to sandy soils with good drainage. Ideally, the soil should be moderately fertile and slightly alkaline, but lamb's ears can tolerate a range of soil types as long as drainage is ensured.
Another noteworthy aspect of growing lamb's ears is their remarkable drought tolerance. Once established, these plants can withstand periods of dryness without suffering significant setbacks. This makes them particularly suitable for xeriscaping and low-water gardens. When planting lamb's ears, adequately spacing them out helps prevent overcrowding and improves air circulation, reducing the risk of disease.
Uses in the Garden
Lamb's Ears are primarily used in gardens and landscapes as a groundcover or an edging plant. The soft, velvety leaves of Lamb's Ears can provide a striking contrast to other plants in the garden, and the pink or purple flowers add a pop of color. Lamb's Ears are also used in container gardens and can be grown indoors as a houseplant. These plants are also edible; the leaves can be used in salads or cooked like spinach. The leaves taste slightly bitter but are rich in calcium, potassium, and iron.