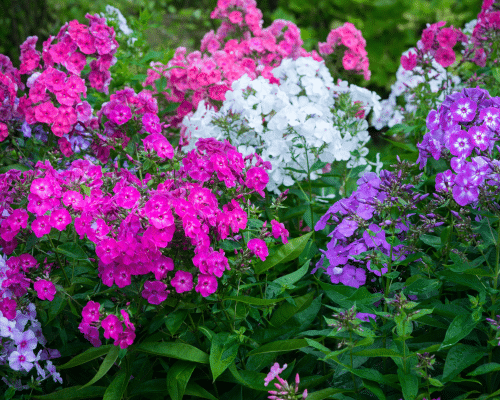 Phlox, commonly known as thrift or sea pink, is a genus of flowering plants that belong to the Polemoniaceae family. There are around 70 species of phlox, which are native to various regions of North America, Asia, and Europe. With its delicate blossoms and lush foliage, Phlox is a perennial favorite among garden enthusiasts, offering a visual symphony that transcends seasons.
Leaves and Flowers
Phlox has slender, lance-shaped leaves that elegantly fan out along delicate stems. These leaves showcase a lush green hue that provides a soothing backdrop to the plant's colorful blooms. Often arranged in an organized manner, the leaves create a sense of order and symmetry.
The hallmark of Phlox's allure lies in its exquisite blossoms, which showcase an array of captivating colors and delicate forms. The flowers are typically star-shaped, with five distinct petals that radiate from a central disk. These petals come in hues of pink, lavender, white, and even bi-colored varieties. The flowers create a captivating display that beckons pollinators and garden admirers alike. Phlox flowers have a relatively long blooming period, extending from late spring to early fall.
Preferred Growing Conditions
Phlox thrives in full sun or partial shade; we recommend planting it in an area that gets at least six hours of direct sunlight each day. Placing Phlox in a sunny spot allows it to produce robust flowers and maintain its overall vitality. Well-draining soil is crucial for Phlox's health and growth. The plant prefers soil rich in organic matter and allows excess water to drain away, preventing root rot. While Phlox is adaptable to different soil types, it thrives in soils with a slightly acidic to neutral pH.
Consistent watering is important during Phlox's establishment phase. Once the plant has established itself, it is relatively drought-tolerant and can withstand periods of dryness. Avoiding overwatering helps prevent waterlogged conditions that can harm the plant's root system.
Deadheading spent flowers is crucial for prolonging the blooming period and encouraging the development of new blossoms. Removing faded blooms redirects the plant's energy from seed production to the growth of fresh flowers. Phlox benefits from a balanced, slow-release fertilizer applied in the spring. Excessive fertilization should be avoided, as it can lead to leggy growth and reduced flowering.
Uses in the Garden
Phlox's compact growth habit and stunning flowers make it an excellent choice for borders and edging along garden pathways or flower beds. The nectar-rich flowers of Phlox attract a variety of pollinators, including bees, butterflies, and hummingbirds, making it an essential addition to pollinator-friendly gardens. Phlox can also be planted in mass groupings to create eye-catching displays of color that command attention.
Phlox Subulata "Creeping Phlox"
One of the most popular species of phlox is Phlox subulata, commonly known as creeping phlox or moss phlox. This low-growing plant is native to North America and is often used as a ground cover in rock gardens and border plantings. It produces dense mats of evergreen foliage covered in a profusion of small, star-shaped flowers in shades of pink, white, and purple in the spring.