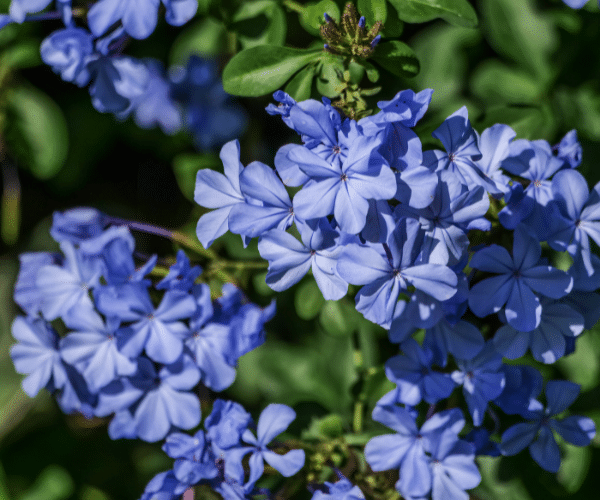 Plumbago, also known as Plumbago auriculata, is a flowering plant that belongs to the family Plumbaginaceae. This plant is native to South Africa and is renowned for its stunning blue flowers and attractive foliage.
Growing Conditions
This plant prefers well-drained, fertile soils and thrives in full sun to partial shade. Plumbago is known for its drought tolerance once established, making it a suitable choice for xeriscaping or water-wise gardens. However, it also tolerates moderate watering and can withstand occasional flooding, making it a versatile option for various regions and climates.
Plumbago is generally considered pest and disease resistant, although it may occasionally suffer from mealybugs or spider mites. These pests can be treated with insecticidal soap or neem oil. Pruning can be done in late winter or early spring to maintain its shape and encourage bushier growth. Plumbago is also considered deer resistant, making it a good choice for gardens where deer are a concern.
Leaves and Flowers
Plumbago features glossy, dark green leaves that are lance-shaped and arranged in an alternating pattern along its stems. The leaves are known for their distinctive ear-like shape, which gives the plant its specific epithet, "auriculata." The leaves add an elegant touch to the plant's overall appearance and provide a lush backdrop for the vibrant flowers.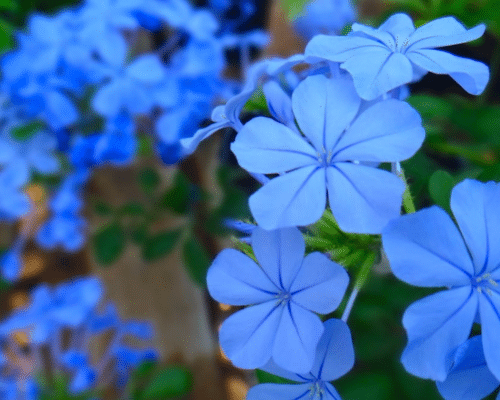 Plumbago produces clusters of mesmerizing, trumpet-shaped flowers in shades of blue, ranging from light sky blue to deep cobalt blue. The flowers have five petals that curl backward, revealing their delicate stamens in the center. The flowers are typically about one inch in size and are borne on slender, wiry stems that rise above the foliage. Although blue is the most common color, Plumbago flowers can also be found in white or pink varieties.
Blooming Period
Plumbago is known for its long blooming period, which typically lasts from late spring to fall, depending on the climate. During this time, the plant is covered in an abundance of flowers that attract pollinators such as butterflies, bees, and hummingbirds, adding a touch of liveliness to any garden. The fragrant flowers of Plumbago are also used in floral arrangements and can be enjoyed indoors, filling the air with a pleasant scent.
Uses in the Garden
Plumbago can grow as a climbing vine or a sprawling shrub, making it a versatile plant for various garden settings. As a vine, it can be trained to climb trellises, fences, or walls, creating a stunning vertical accent in the garden. As a shrub, it can be pruned to maintain a compact and bushy shape, making it suitable for borders, hedges, or as a ground cover. Plumbago can reach a height of 6-10 feet and has a moderate growth rate, making it easy to manage and incorporate into different garden designs.