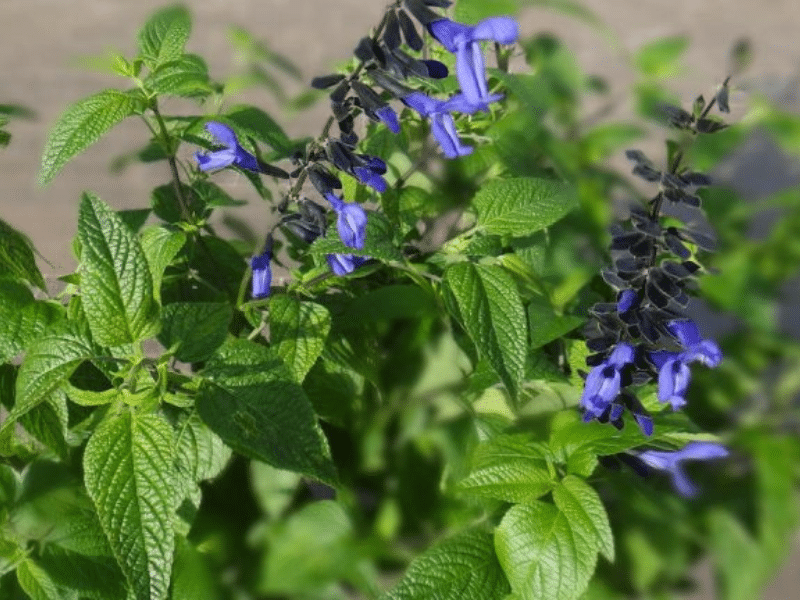 Salvia, commonly known as sage, is known for its aromatic foliage, vibrant blooms, and storied history. Sage captivates the senses and beckons enthusiasts into a world of fragrant allure and visual splendor. This versatile genus, encompassing an array of species and cultivars, carries an ancient legacy of culinary and medicinal uses, while its presence in the garden bestows an exquisite tapestry of colors and textures that elevate outdoor spaces to realms of natural enchantment.
Preferred Growing Conditions
Sage is a hardy and adaptable plant that thrives in various climates and soil types. Preferred growing conditions vary depending on the species and cultivar, but most varieties flourish in well-draining soil with ample sunlight. While they appreciate full sun, some varieties do better in partial shade. These resilient plants tolerate drought well, ideal for water-wise and xeriscaped gardens.
Adequate watering is crucial during the initial period, but Salvia can handle periods of dryness once established. Applying a balanced fertilizer in the spring helps to promote healthy growth and flowering. Pruning is essential to maintain shape and encourage new growth. Deadheading spent flowers prolongs the blooming period and helps maintain the plant's aesthetic appeal.
Leaves and Flowers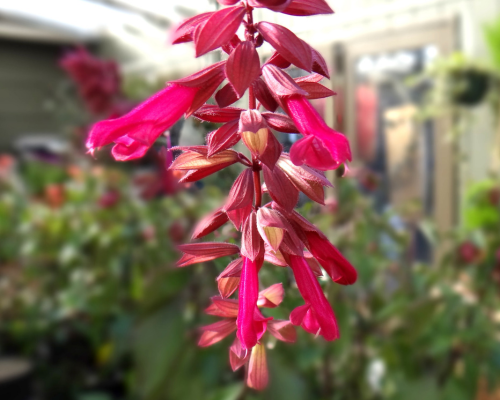 Salvia's distinct charm resides not only in its blossoms but also in its aromatic leaves. The leaves are often lance-shaped or oval, with a textured surface that contributes to their distinctive appearance. These leaves exude an earthy, slightly woody fragrance, a characteristic that has contributed to sage's longstanding use in culinary and medicinal applications.
The flowers come in a breathtaking array of colors, including shades of blue, purple, red, pink, and white. They are typically tubular and are arranged in striking whorls or spikes, creating a visually arresting display. The flowers serve as beacons for pollinators like bees, butterflies, and hummingbirds, contributing to the garden's ecological health.
Uses in the Garden
The range of sizes, colors, and growth habits of Salvia make it suitable for various landscape styles and garden themes. Low-growing varieties can be used as ground covers or border plants, while taller salvias make striking focal points or background plantings. The fragrant foliage and stunning blooms make sage a standout choice for sensory gardens, where visitors can savor its visual and olfactory delights.
Beyond its aesthetic contributions, sage has practical applications in garden design. Its drought tolerance and ability to thrive in challenging conditions make it a valuable addition to sustainable and water-efficient landscapes. Additionally, sage's attractiveness to pollinators enhances biodiversity, contributing to the overall health of the garden ecosystem.
Cultural Significance
Moreover, Sage holds cultural significance in various societies. In ancient traditions, sage was associated with wisdom, protection, and purification. Its aromatic properties made it a common choice for incense and smudging rituals in spiritual practices.