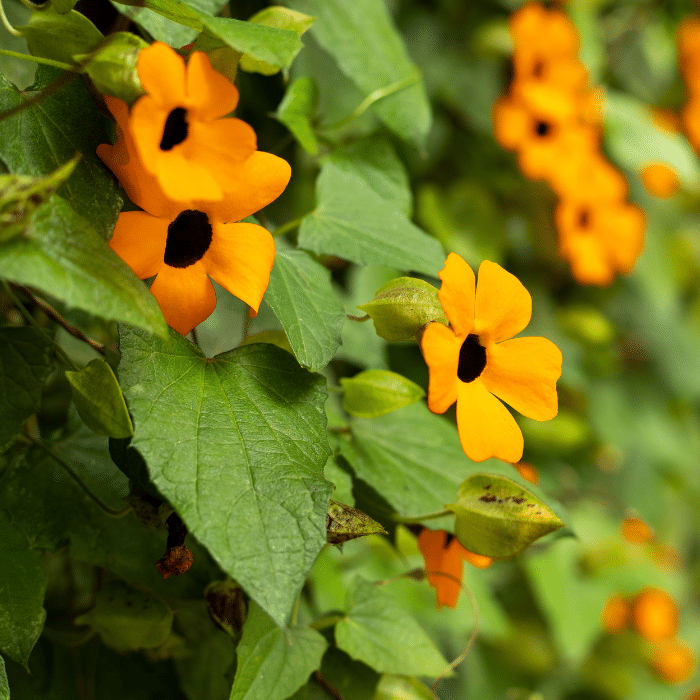 Thunbergia, also known as Black-eyed Susan Vine, is a fast-growing flowering plant in the Acanthaceae family. It is native to tropical regions of Africa, Asia, and Madagascar. The plant was named after the Swedish botanist Carl Peter Thunberg, who discovered the species in South Africa in the 18th century. Thunbergia is known for its beautiful flowers and ability to quickly cover trellises, fences, and walls. If it has a support structure to climb, the plant can climbs upwards of 8 feet high.
Growing and Caring For Thunbergia
Thunbergia thrives in warm and tropical climates, making it an excellent choice for gardens in those regions. It prefers full sun exposure to ensure optimal growth and abundant flowering. However, in hotter regions, it can benefit from some partial shade during the hottest parts of the day. The vine requires well-draining soil that is rich in organic matter. Regular watering is essential, especially during dry periods, to keep the soil consistently moist but not soggy. Adding a layer of mulch around the base of the plant helps retain moisture and suppress weed growth.
Black Eyed Susan is often grown as an annual in cooler climates, but it is a perennial in its native tropical regions. It can tolerate drought but thrives with regular watering and fertilization. It's important to provide sturdy support for the vine to climb, such as a trellis or wire frame. Regular pruning and training can help maintain its shape and encourage lateral branching, resulting in a fuller and more compact growth habit. With the right growing conditions, including ample sunlight, well-draining soil, and proper support, the Black-eyed Susan vine will flourish, adding a touch of vibrant beauty to your garden or outdoor space.
Leaves and Flowers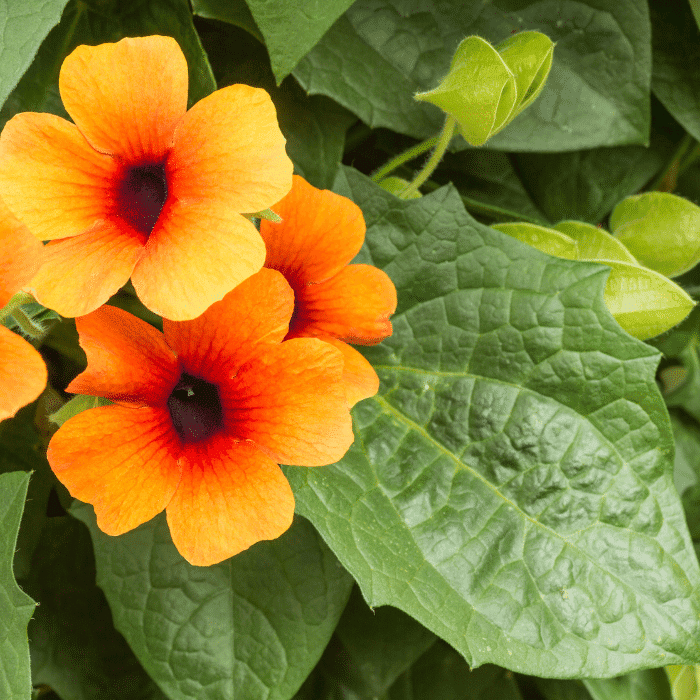 The Black-eyed Susan Vine has attractive, heart-shaped leaves that are dark green and glossy. The plant produces small, trumpet-shaped flowers that are usually yellow or orange with a black center, resembling the eyes of a black-eyed Susan.
The flowers of the Black-eyed Susan vine are a sight to behold with their striking beauty. These vibrant blooms feature a prominent dark center, surrounded by cheerful petals in shades of yellow, orange, or white. The petals often display delicate markings or contrasting patterns, adding an extra layer of charm to the flowers. These dainty blossoms, arranged in clusters along the vine's twining stems, create a captivating display that brightens any garden or trellis.