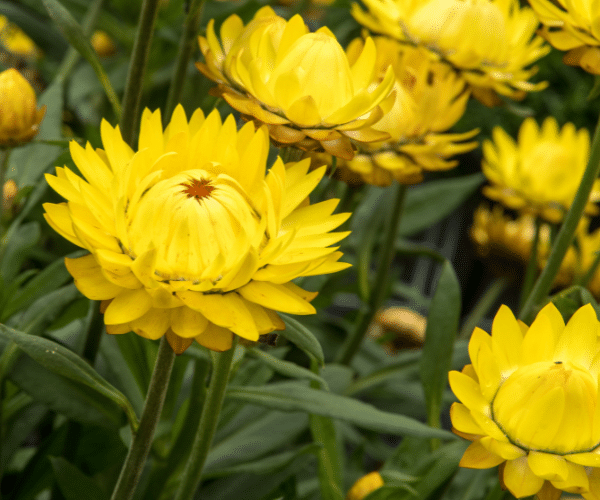 Bracteantha, also known as Straw Flower, is a genus of flowering plants that belong to the Asteraceae family. They are native to Australia and can range in height from 30 to 100 centimeters, depending on the species. These plants are known for their showy annual flowers, which have a papery, straw-like texture and come in shades of yellow, orange, pink, and white, and they make amazing cut flowers.
Growing and Caring for Bracteantha
Bracteantha is a resilient, drought-tolerant plant that thrives in sunny and warm conditions. It prefers full sun exposure, requiring at least six hours of direct sunlight daily to promote optimal growth and flower production. In regions with hot climates, some afternoon shade can help protect the plant from scorching and maintain its vibrant colors. Bracteantha can tolerate a range of soil types, but well-draining soil is essential to prevent waterlogged conditions that may lead to root rot. Sandy or loamy soil with good drainage is ideal for this plant.
Being drought-tolerant, Bracteantha plants are well-suited for low-water gardening. Watering should be done sparingly, allowing the soil to dry out between waterings to prevent overwatering and encourage healthy root development. However, some supplemental watering may be necessary to sustain the plant's growth and vitality during prolonged drought or extreme heat. Applying a layer of mulch around the base of the plant can help conserve moisture and regulate soil temperature.
Leaves and Flowers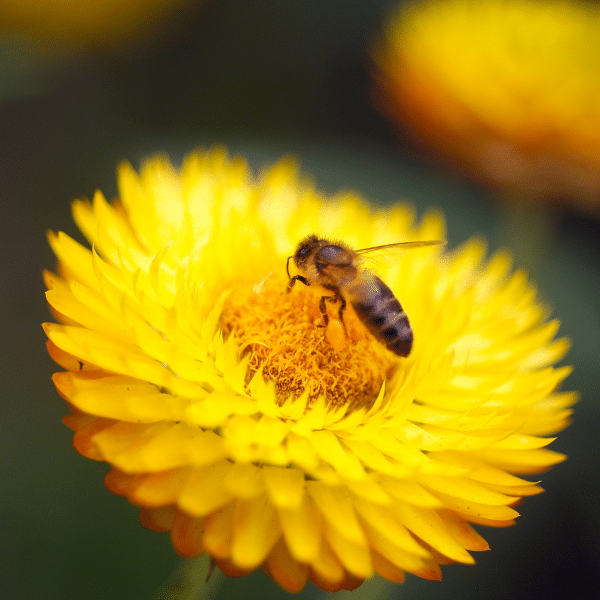 Bracteantha have narrow, lance-shaped leaves that grow in a rosette at the base of the plant. The stems are usually wiry and branch out to produce multiple flower heads that bloom in a range of colors, including yellow, orange, pink, and red. The flowers of Bracteantha plants are known for their long-lasting beauty and a single bloom can last for several weeks. Bracteantha plants are easy to cultivate and can tolerate various conditions. They prefer full sun and well-draining soil but can tolerate moderate drought and poor soil quality.
At Martin Garden Center, we try to bring in Straw Flowers in the spring but there are fewer and fewer vendors that carry these plants. We hope to be able to continue to carry Bracteantha because they are durable, and they make a popular choice for cut flowers and floral arrangements. The papery texture of the petals allows them to maintain their shape and color even when dried, making them a common choice for traditional crafts such as wreath-making and flower pressing.