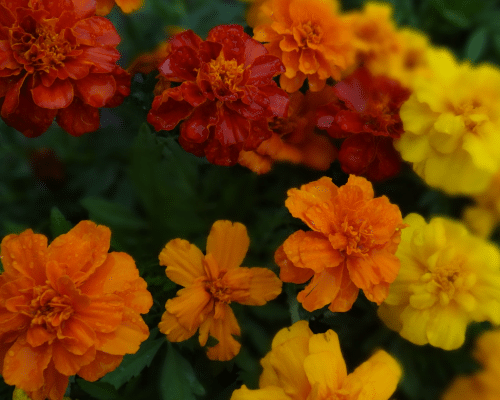 Marigolds are colorful and vibrant flowers that are highly popular among gardeners. Also known by their scientific name Tagetes, these plants belong to the family Asteraceae. They are native to the Americas, specifically Mexico and Central America, and have a rich history dating back to ancient times. Marigolds have become a staple in gardens and landscapes because of their cheerful appearance, distinct scent, and ease of care.
The name "marigold" is believed to have originated from the Virgin Mary. Marigolds were often used in early Christian ceremonies to honor the Virgin Mary and were referred to as "Mary's gold."
Marigolds are known for their vibrant colors, ranging from shades of yellow, orange, and red to maroon, mahogany, and even cream. They typically have dense, bushy foliage and grow in a compact manner, making them ideal for borders, containers, and mass plantings. There are many species and cultivars of marigolds, each with its own unique characteristics.
One of the most common species of marigolds is the African marigold (Tagetes erecta), known for its large, double flowers that can reach up to 4 inches in diameter. African marigolds are often used in flower beds, providing a burst of color, and can bloom throughout the summer and fall. Another popular species is the French marigold (Tagetes patula), which has smaller, single, or double flowers and a more compact growth habit. French marigolds are often used in borders, containers, and as companion plants in vegetable gardens, as they are believed to repel pests with their strong scent.
Marigolds are relatively easy to grow and are well-suited for novice and experienced gardeners. They prefer well-drained soil and full sunlight, although they can tolerate partial shade. Marigolds are generally resistant to pests and diseases but may be susceptible to aphids, spider mites, and powdery mildew in certain conditions. Proper watering, avoiding overhead watering, and providing good air circulation can help prevent these issues.