Achillea, commonly known as Yarrow, is a beautiful perennial plant that belongs to the Asteraceae family. A fun fact about Yarrow is that it's used as a natural dyeing agent, producing shades of yellow, green, and tan. Achillea is a versatile plant that is loved by gardeners for its attractive appearance, ease of cultivation, and many uses in the garden.
Growing and Caring For Achillea
Achillea is a versatile and hardy plant that flourishes in many different environments. It prefers well-drained soil, though it is remarkably adaptable to various soil types, including sandy or loamy soils. Yarrow thrives in full sun, although some varieties can tolerate light shade. Its resilience extends to temperature fluctuations, making it suitable for gardens in temperate and subarctic climates.
Regular watering during its establishment phase is essential, but once established, the plant can tolerate periods of drought. Fertilization should be minimal, as excessive nutrients can lead to leggy growth and reduced flowering. Deadheading spent flowers prolongs the blooming period and encourages the development of new blooms. Dividing mature clumps of Yarrow every few years helps maintain plant vigor and prevent overcrowding.
Leaves and Flowers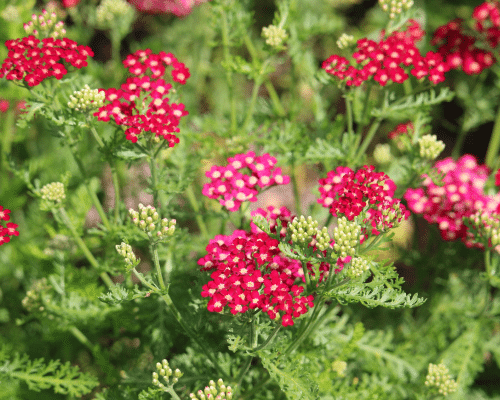 Achillea's foliage is characterized by its finely divided, fern-like appearance, contributing to the plant's delicate yet textured allure. The leaves are typically aromatic, exuding a faint fragrance when touched or brushed against. These feathery leaves form a lush basal rosette contrasting beautifully with the plant's upright flower stalks.
The flowers steal the spotlight with their captivating diversity. They form flattened clusters, often referred to as "umbels." The individual flowers are small and composed of multiple tiny florets, creating a tapestry of colors and shapes. Achillea blooms come in an array of shades, including white, pink, red, and yellow, offering a visual symphony that can be seamlessly woven into various garden designs.
Uses in the Garden
Achillea is also highly versatile and can be used in various ways in the garden. For example, it is often used as a border plant or as a filler in rock gardens. The plant can also be used to add color and texture to mixed perennial beds. In addition, Achillea is often used in cottage gardens and meadow gardens, where it adds a natural and wildflower-like look.
Achillea is also an excellent plant for attracting wildlife to the garden. The plant's nectar-rich flowers attract pollinators, including bees, butterflies, and moths. These insects, in turn, attract birds to the garden, making it a great place for nature lovers to observe wildlife up close.