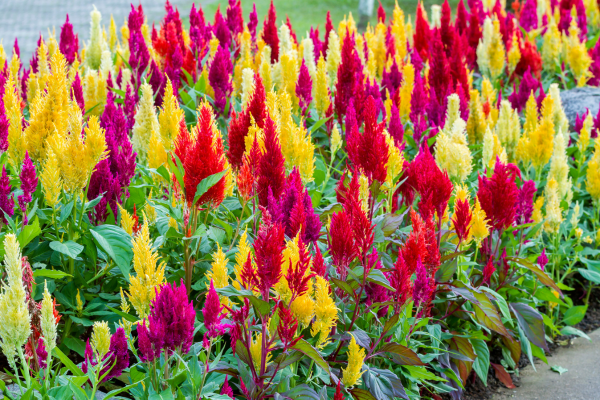 Celosia is a genus of flowering plants that belong to the Amaranth family. There are two main types of Celosia plants: plumed and crested. Plumed Celosia plants have feathery, upright blooms resembling flames or plumes, while crested Celosia plants (Cockscomb) have dense, compact buds resembling twisted, velvety crests. Both types of Celosia plants are popular for use in cut flower arrangements, as well as in gardens and landscapes.
Growing and Caring for Celosia
These heat-loving annuals thrive in full sun, so provide them with at least 6 to 8 hours of direct sunlight each day. Plant celosia in well-draining soil enriched with compost or organic matter to ensure optimal growth. While celosia prefers evenly moist soil, it's important to avoid over-watering. Water at the base of the plant to prevent wetting the leaves. Applying a layer of mulch around the plants helps retain moisture and regulate soil temperature.
Deadheading spent flowers is essential for prolonging blooming and maintaining the plant's overall appearance. Apply a well-balanced, water-soluble fertilizer every 4 to 6 weeks during the growing season to support healthy growth and vibrant blooms. Pruning or pinching back celosia can encourage bushier growth and prevent legginess. Celosia can reach different heights depending on the variety, so consider its mature size when planning its placement in your garden or containers.
Leaves and Flowers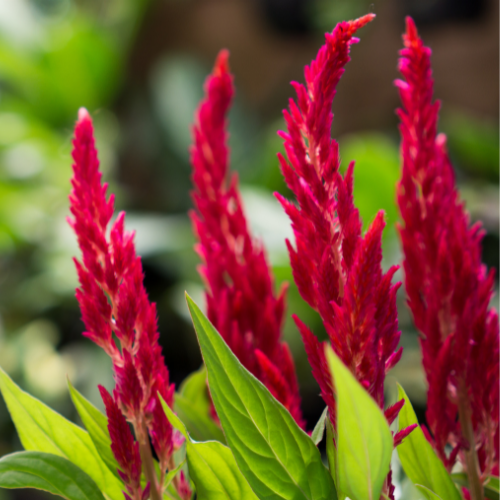 Celosia leaves are typically lance-shaped or ovate and can vary in size depending on the variety. They often have a glossy or slightly textured surface, adding a touch of shine to the overall foliage. In some celosia varieties, the foliage may have a bronze or burgundy hue, further enhancing the plant's visual appeal and creating an intriguing contrast with the flowers.
The flowers are the true showstopper, boasting unique and ornamental forms that range from feathery plumes to crested combs. The plume-type celosia, often called "feather celosia," displays elongated, brightly colored flower spikes that resemble flames or vibrant feathers. These flower spikes can be erected or slightly drooping, adding vertical interest to garden beds and borders. The crested celosia, known as cockscomb, is characterized by its fascinating rooster-comb-like flowers, which form intricate, dense crests reminiscent of velvet or coral. The flowers come in a wide array of bold and captivating colors, including red, orange, yellow, pink, and even purple.
Celosia Cristata "Cockscomb"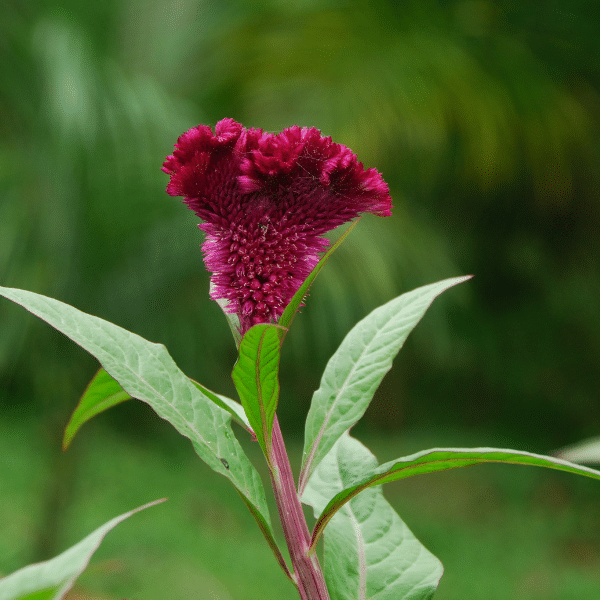 Celosia cristata (Cockscomb) is a type of Celosia plant that is known for its unique, velvety crested blooms. The flowers of Cockscomb plants come in various bright colors, including red, pink, orange, yellow, and white, and can grow up to 30 centimeters in diameter.