… is Magical at Martins
Porch Pots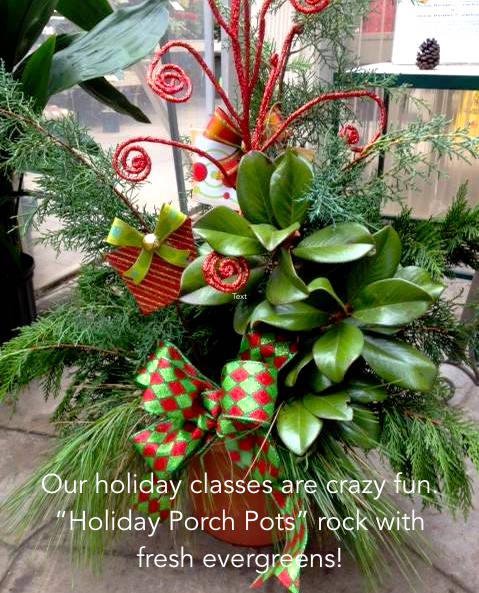 Craft your own porch pot at one of our Porch Pot Parties or let us create a custom porch pot for you.  Perfect for a dramatic entry to your home during the holidays.
Add greenery, branches, pine cones and bows.  Bling it up, if it suits your sense of style, or go traditional.  Either way, you will have a unique container to enhance your holiday season.
And, yes, those enormous Sugar Pine Cones at the base of the urn are real, and are available at Martin Garden Center while supplies last. Sugar Pine Cones range in size from 8″ -14″ and come from the Sugar Pine Tree … of course.
Frazier Fir Wreaths
From the forests of the Appalachian Mountains come these amazingly crafted fresh Frazier Fir wreaths.  Once we transport them to the Upstate, we preserve the greenery and then our staff customize each wreath to suit our customer's size, style, and budget.  Come experience for yourself what has become an Upstate tradition for many.  Year after year after year, our wreath customers order again and again because we provide the best quality wreaths in the Upstate (and across the state based on our customer requests).  Call beginning November 1 to reserve your wreath for this holiday season or just come by beginning the week of Thanksgiving to see what makes our wreaths so special.  
Greenery by the Yard
We sell white pine and mixed white pine with Frazier Fir by the yard.  We make up custom swags and other enhancements for your mantle or mailbox.   Just let us know your criteria.
Poinsettias … in varying sizes and colors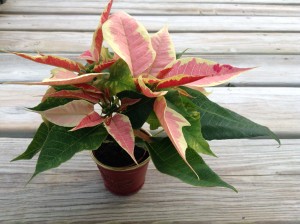 2″ poinsettias @ $4.99 – The perfect size and shape for accents in your holiday table centerpieces.  Buy one and get a free 2 inch accessory pots for your poinsettias.  Come early to select from our varied assortment for your home, as well as for great gifts for teacher, the neighbors and fun friends.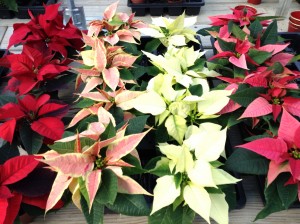 4″ and 6 1/2″ and 8″ poinsettias – Line your mantle, your stairway and your entry table with poinsettias.  They are the perfect accent at the holidays and come in a variety of colors.  They are also great gifts for friends and family.
Accent your poinsettia purchase with wraps and bows of every color, as well as inexpensive containers to enhance your selection.
Call beginning November 1 to reserve your poinsettia order for the Christmas season.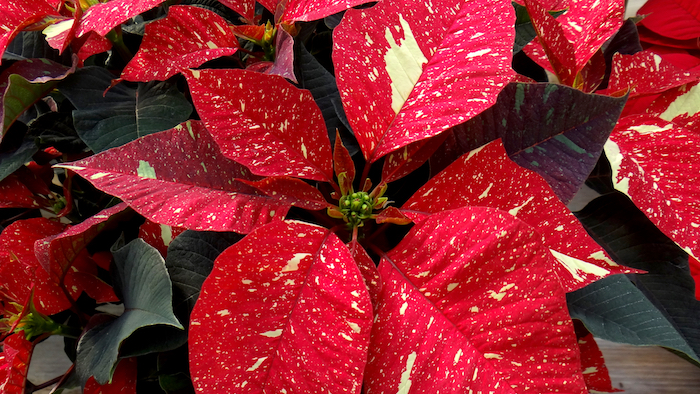 Amaryllis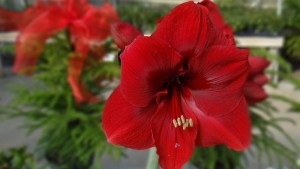 Amaryllis bulbs make great gifts – we still have some enormous bulbs and potted Amaryllis preparing to bloom.  But when they're gone, they're gone till next year at the holidays.
Paperwhites
Ribbons and Bows
We begin in November … prepping hand made velvet and other bows. There is no greater sacrifice borne from our arthritic hands than these bows that are so darn beautiful that people can't help but buy them … perhaps out of pity … was that arthritic hand comment too much? All joking aside, our bows are the bomb so let us make one for you.
Seasonal Greenery
Each year, we carry a wide assortment of Christmas greenery sold by the stalk and sold in bundles. Beginning the Wednesday before Thanksgiving, our greenery begins to arrive and we swoon. The smell, the feel, the vibrant colors … Christmas is simply magical at Martin's.