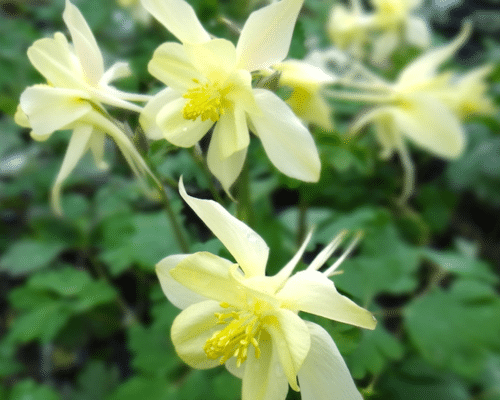 Columbine (Aquilegia) is a genus of herbaceous perennials that belong to the Ranunculaceae family. The plant is known for its delicate, bell-shaped flowers that bloom in shades of blue, pink, purple, red, white, and yellow. These plants are available in many different cultivars, each with its unique features. They can grow from 6 inches to 3 feet tall, with a spread of up to 2 feet.
Growing and Caring for Columbine
These plants thrive in well-drained soil with a slightly acidic to neutral pH. Proper soil drainage is crucial to prevent root rot, as Columbine dislikes soggy conditions. At Martin Garden Center, we grow our Columbines as full sun plants. However, we find that Columbines are less maintenance for our customers when planted in partial sun (meaning afternoon shade or less than 4 hours of afternoon sun).
Caring for Columbine includes consistent watering to maintain evenly moist soil. Applying a layer of mulch around the base of the plant can help retain soil moisture while also regulating temperature fluctuations. Fertilizing once a year, preferably in early spring, with a balanced, slow-release fertilizer can provide the necessary nutrients for healthy growth. Deadheading spent blooms will encourage prolonged blooming and prevent self-seeding (which can sometimes result in hybrid plants.) Additionally, pruning back the foliage after flowering can help promote fresh growth and prevent the plant from becoming leggy.
Columbine can sometimes face challenges such as aphids or powdery mildew. Regularly inspecting the plant's leaves and stems can help you catch any issues early on. If aphids appear, a gentle spray of water or insecticidal soap can help control their population. Preventing overcrowding and ensuring proper air circulation can reduce the risk of powdery mildew.
Leaves and Flowers
The foliage of Columbine is fern-like with a delicate texture. The compound leaves, often bluish-green or gray-green in color, comprise numerous small leaflets that create an almost feathery effect. This foliage emerges in clusters, forming a mound that acts as a canvas for the plant's enchanting blooms.
Columbine's flowers resemble elegant bells or spurred tubes and come in a captivating range of colors. One of the most stunning features of the columbine flower is its unique spurs, which extend backward from the petals, evoking an almost whimsical appearance. These spurs are often contrasting in color, adding to the overall allure. Additionally, the intricate nectar guides within the flower, often in the form of delicate lines or dots, direct pollinators toward the source of nectar.
Uses in the Garden
With its intricate and graceful flowers, Columbine can draw the eye and serve as a captivating centerpiece in garden beds or borders. Its diverse color palette, ranging from soft pastels to vibrant hues, allows for creative combinations and harmonious contrasts with other plants, enhancing the overall aesthetic of the garden. However, Columbine also excels as a charming companion plant. Its delicate foliage and dainty flowers make it an excellent choice for planting alongside other perennials, shrubs, or grasses.
Columbine's versatile nature allows it to thrive in various garden styles, from cottage gardens to woodland landscapes. Columbine can contribute to a woodland or shade garden, placed beneath taller trees or within dappled shade, creating a serene and magical atmosphere. Its ability to self-seed can lead to delightful surprises, as new columbine plants may emerge in unexpected corners of the garden, adding a sense of spontaneity and natural beauty.