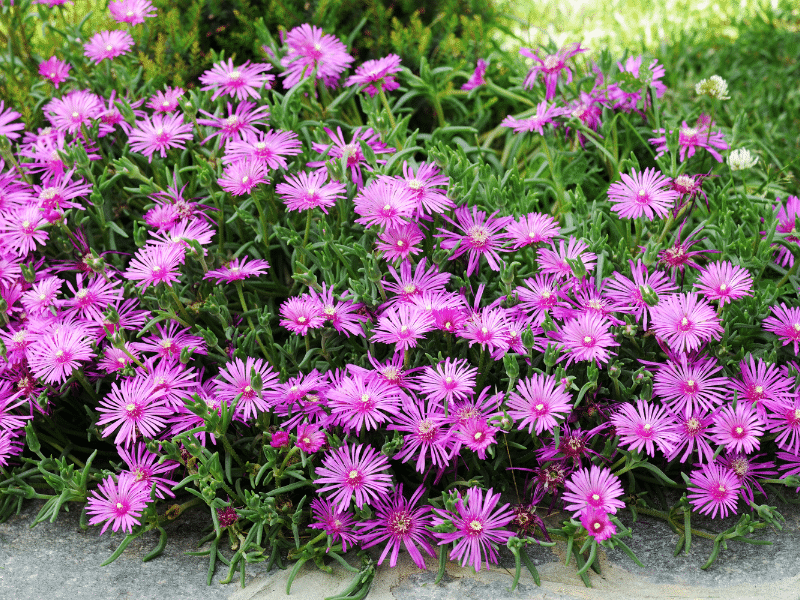 Delosperma, commonly known as Ice Plant, is a genus of succulent perennial plants that are native to southern Africa. These plants are known for their vibrant, daisy-like flowers. Delosperma is typically low to the ground with a sprawling growth habit and is commonly used as a ground cover or in rock gardens.
Leaves and Flowers
The leaves of Delosperma plants are fleshy and succulent and range in color from green to grayish-blue. They are typically small, oval-shaped, and arranged alternately along the stem. The leaves are adapted to store water, which helps the plant to survive in arid environments. The flowers are daisy-like with a central disk and can be either flat or reflexed. They come in yellow, orange, pink, purple, and white and bloom from late spring to early fall.
Preferred Growing Conditions
Delosperma is a herbaceous perennial in our area. Delosperma thrives in full sun exposure, requiring at least six hours each day. Well-draining soil is also crucial to its success, as this soil type mimics its native rocky and sandy environments. A sandy or gritty soil with good drainage facilitates optimal root development and supports the plant's overall health.
Delosperma is well-known for its drought-tolerant nature. During its establishment phase, provide regular watering to help its roots settle, but be cautious not to overwater. Once Delosperma is established, it requires minimal supplemental irrigation. Allow the soil to dry out between waterings, ensuring you do not create consistently moist conditions.
Delosperma's hardy nature extends to its resistance against most pests and diseases. However, it's essential to ensure proper air circulation and avoid overwatering, which can prevent potential issues like fungal diseases.
Uses in the Garden
Delosperma plants are a popular choice for use in landscaping due to their low-maintenance nature and vibrant blooms. They are commonly used as ground covers or in rock gardens, where their mat-like structure can help to stabilize soil and prevent erosion. Delosperma can also be used in containers or hanging baskets, where their trailing growth habit and colorful blooms can add interest and color to a patio or balcony.
Popular Varieties
At Martin Garden Center, one popular variety of Delosperma is the 'Jewel of Desert' series, which features a range of colors, from bright yellow to deep purple. This series is notable for its compact growth habit and prolific blooming. Another popular variety of Delosperma is the 'Fire Spinner' cultivar, which features flowers with bright pink and orange petals. This cultivar is notable for its ability to change color depending on the temperature and light conditions, giving it a unique and dynamic appearance.