Echinacea, also known as Coneflower, is a popular and hardy plant that belongs to the Asteraceae family. It is native to North America and is highly valued for its distinctive cone-shaped flowers that bloom throughout the summer months.
Preferred Growing Conditions
Echinacea thrives in various growing conditions, making it a versatile addition to gardens of various styles and locations. Coneflower is well-suited to temperate climates and can withstand cold winters. It is a hardy perennial that can thrive in a range of USDA hardiness zones, making it a reliable choice for gardens in various regions. It is a sun-loving plant that flourishes when exposed to ample sunlight, ideally six to eight hours of direct sunlight each day.
Well-draining soil is essential for Echinacea's health and growth; it prefers soil rich in organic matter and allows excess water to drain away, preventing root rot. The plant's adaptable nature means it can tolerate a range of soil types, from loamy to sandy. Echinacea is relatively drought-tolerant once established. During its early stages of growth, consistent watering is necessary to help the plant develop a strong root system. However, once it is established, it can withstand periods of dryness without compromising its overall health.
Caring for Echinacea involves deadheading spent flowers is essential to promote continuous blooming and prevent the plant from redirecting energy into seed production. Removing faded blooms also maintains the plant's aesthetic appeal and prevents self-seeding. Echinacea generally does not require heavy fertilization. A balanced, slow-release spring fertilizer can provide the nutrients for healthy growth and flowering.
Leaves and Flowers
Leaves and Flowers: Echinacea's leaves and flowers form a harmonious duet of beauty, each contributing to the plant's visual splendor. Its lance-shaped, coarse-textured leaves are typically dark green and radiate from a central stem. Some Echinacea varieties exhibit unique leaf colors, such as green, purple, and even silver variations, adding an intriguing touch of diversity to the garden landscape.
Echinacea's most iconic feature is undoubtedly its flowers; the blossoms boast a prominent central cone, often referred to as a "cone" or "disk," surrounded by a vibrant ring of petals. The petals, also known as ray florets, come in many captivating colors, including shades of pink, purple, white, and orange. The contrast between the central cone and the radiating petals creates a visually captivating spectacle that beckons pollinators and garden enthusiasts alike. The flowers also serve as important nectar sources for pollinators, including bees, butterflies, and hummingbirds.
Uses in the Garden
1. Pollinator-Friendly Gardens: Echinacea's nectar-rich flowers attract diverse pollinators, making it a valuable addition to pollinator-friendly gardens that support local wildlife and contribute to ecological balance.
2. Cottage Gardens: Echinacea's rustic charm and vibrant colors make it a perfect fit for cottage-style gardens, adding a touch of nostalgia and romance to outdoor spaces.
3. Native Plant Landscapes: As a native North American plant, Echinacea seamlessly integrates into native plant landscapes, enhancing these garden settings' authenticity and ecological value.
4. Cut Flower Arrangements: Echinacea's stunning blossoms are prized for their beauty and longevity in cut flower arrangements. Their striking appearance adds a touch of elegance to indoor spaces.
In the heat of the summer when April showers and spring flowers are a footnote, that is when cone flowers begin. They are a hot season plant, and thrive in the hot sun after we have retreated indoors to our air conditioning. At Martin Garden Center, we sell numerous varieties but the tried and true most popular include the magnus (purple), the POW WOW series including white and wild berry and the cheyenne spirit (yellow, orange and red blooms). But we can't help but bring in some of the amazingly colorful varieties to supplement these super performers. Can't wait to see what we have this year.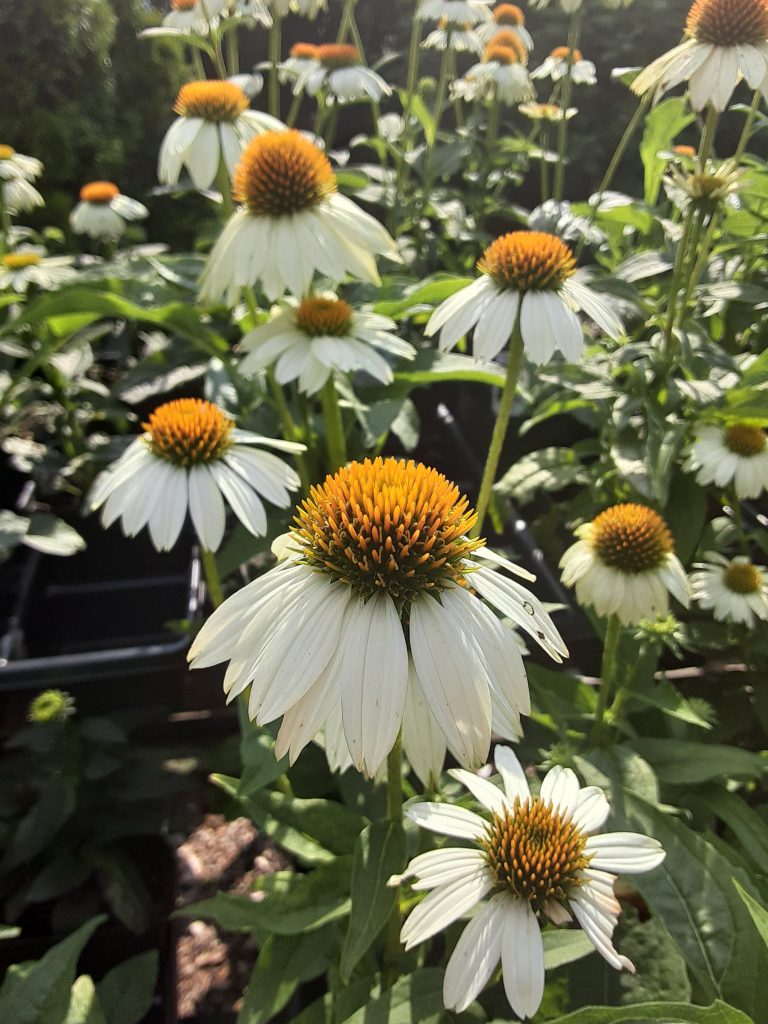 Generally, Cone flowers bloom from summer to fall and don't require a lot of maintenance. But, if you dead head spent blooms, you will receive more blooms.