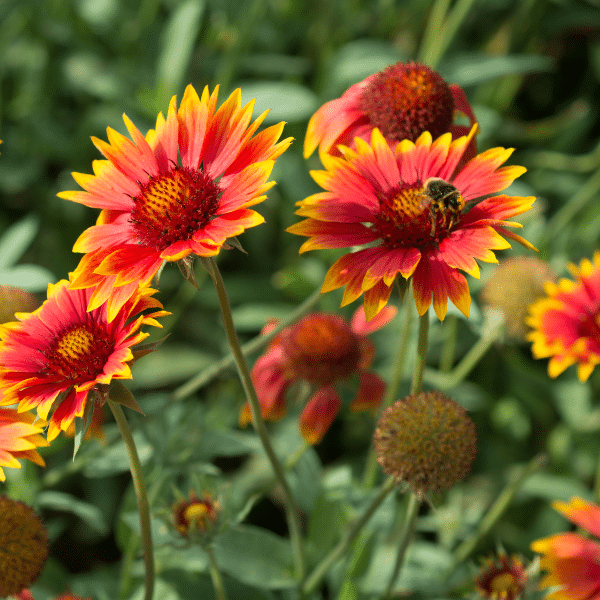 Gaillardia, commonly known as Blanket Flower, is a genus of around 20 species of herbaceous perennials and annuals belonging to the Asteraceae family. Native to North and South America, Blanket Flowers are popular among gardeners for their brightly colored flowers that bloom for months.
Leaves and Flowers
The leaves typically form low, compact rosettes that emerge from the base of the plant, creating a dense and attractive ground cover. They come in many different shapes, from lanceolate to spatulate, and their edges may be smooth or slightly toothed, contributing to the plant's unique and dynamic appearance. Gaillardia leaves are typically shades of deep green, grayish-green, and sometimes even silvery hues. The leaves surfaces may be adorned with fine hairs, lending a soft and textured feel upon touch. This foliage is vital for drought resistance, as its structure minimizes water loss through evaporation.
The flowers are daisy-like, with a prominent central disk surrounded by ray-like petals that exude an air of cheerful exuberance. These petals exhibit an enchanting blend of hues, often featuring warm oranges, fiery reds, and vibrant yellows that seem to catch the sun's essence. A remarkable feature of Gaillardia flowers is their bicolor or tricolor composition. The central disk ranges from shades of deep maroon to rich brown, while the surrounding petals boast red, orange, or yellow variations. The long bloom period of Gaillardia ensures a prolonged spectacle in the garden, as new flowers continuously emerge while older ones gracefully fade.
Dead-heading flowers will also help to enhance Gallardia and keep it fresh looking.
Preferred Growing Conditions
Gaillardia thrives in full sun. It needs a minimum of six hours of sunlight per day. Well-draining soil is a fundamental requirement for Gaillardia's prosperity, mimicking the sandy or gravelly soils of its native plains. Soil with good drainage prevents the risk of waterlogged roots, which could prove detrimental to the plant's health. Furthermore, Gaillardia thrives in soil with a neutral to slightly alkaline pH, which enhances nutrient availability and absorption.
While the plant appreciates regular moisture during its establishment phase, it quickly adapts to drought conditions once its roots have gained a firm hold. Overwatering poses a greater threat than underwatering, as Gaillardia is prone to root rot in excessively moist soil. We advise you to water Gaillardia deeply but infrequently. This practice encourages the plant's roots to reach deeper into the soil in search of moisture, making the plant more resilient during dry spells. A layer of organic mulch around the base of the plant helps retain soil moisture and regulates soil temperature, contributing to Gaillardia's overall well-being.
Popular Varieties
There are several cultivars of Blanket Flowers available, each with unique characteristics. Some popular cultivars we see at Martin Garden Center include:
'Arizona Series': This cultivar has bright red, bright yellow and bi-color flowers. There is even and apricot colored flower. The plants have a compact growth habit, making it ideal for container gardens.
'Goblin': This cultivar has red and gold flowers that are slightly smaller than other Blanket Flowers, but it makes up for it with its long blooming period.
'Mesa Series': Similar colors to the Arizona series and boasts a more upright growth habit.
At Martin Garden Center, we stock 4″ Gallardia all season long. We may not have a huge variety of colors, but we will have good looking Gallardia throughout the season.