Hypericum, commonly known as St. John's Wort, is a perennial shrub belonging to the Hypericaceae family. It is native to Europe but can also be found in Asia and North America. This perennial beauty showcases a versatile range of sizes, with some varieties growing as low ground covers and others reaching heights of up to 5 feet. Its growth habit forms a multi-branched, bushy structure that exudes a sense of fullness and vitality.
Preferred Growing Conditions
Hypericum is a sun-loving plant that revels in the embrace of ample sunlight. For optimal growth and flowering, provide a location that receives at least six hours of direct sunlight daily. While it can tolerate some light shade, a sunny spot is key to Hypericum's vitality, ensuring it can harness the sun's energy for robust growth and vibrant blooms.
Well-draining soil is a cornerstone of Hypericum's success. Plant it in soil that promotes good drainage, preventing waterlogged roots that could lead to rot. A loamy or sandy soil enriched with organic matter provides the ideal foundation for this plant's growth. Water the plant regularly to keep the soil evenly moist but not waterlogged. As the plant matures, it becomes more drought-tolerant, requiring less frequent watering.
Consider the climate of your region when cultivating Hypericum. It generally thrives in temperate to subtropical climates. Hypericum species vary in hardiness, so choose varieties well-suited to your local climate and growing conditions. While it can tolerate various temperatures, make sure to provide protection from harsh winter conditions, such as strong winds and heavy snow.
While Hypericum is a beautiful and versatile plant, it is important to note that some species of the plant can be invasive. Hypericum perforatum, for example, is considered a noxious weed in some areas, and gardeners should take care when planting this species.
Leaves and Flowers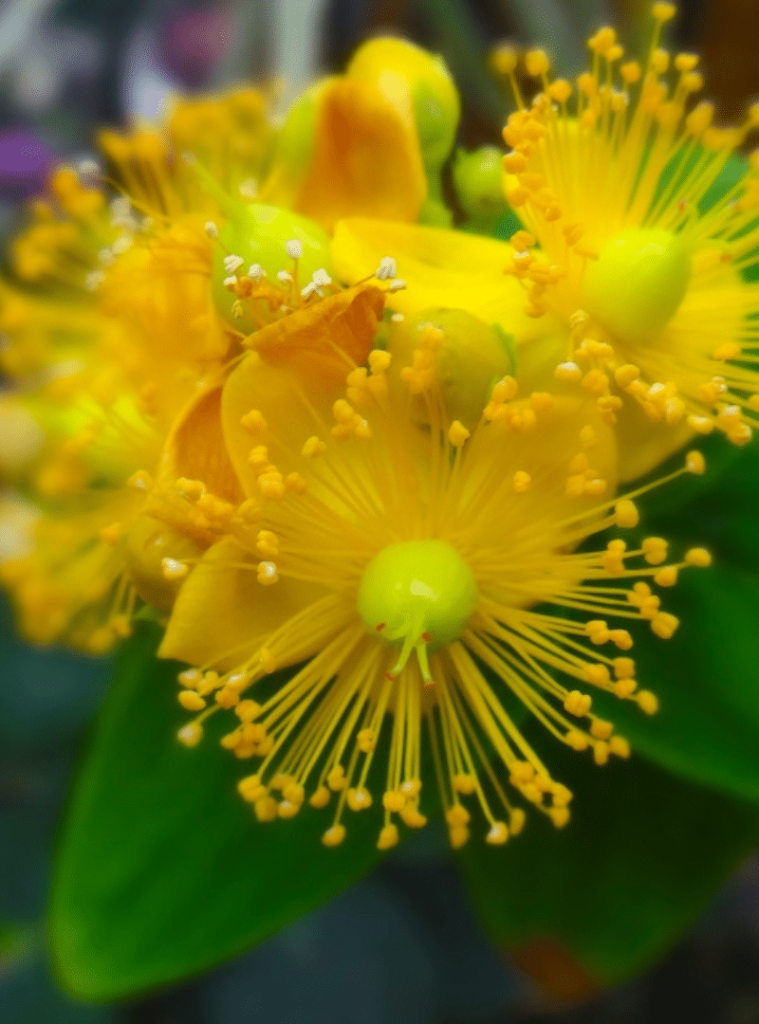 The elongated, lance-shaped leaves of Hypericum exude a subtle charm with their deep green hues and delicate translucent dots. The leaves are often arranged in opposite pairs along the stems, creating a textured tapestry that provides a graceful backdrop to the plant's blossoms.
Hypericum is known for its bright yellow flowers that bloom in mid-summer. The five-petaled, star-shaped flowers form clusters at the tips of the stems, creating a captivating visual display that captures the essence of summer's warmth. These cheerful blossoms, adorned with prominent stamens tipped with golden anthers, invite pollinators like bees and butterflies to partake in their nectar-rich offerings. Hypericum's flowers enhance the aesthetic appeal of gardens and meadows and contribute to the ecological balance by supporting local pollinator populations.
Uses in the Garden
Colorful Borders and Edges: Hypericum's vibrant flowers and lush foliage make it an excellent choice for creating colorful borders and edges in your garden beds. Plant them along pathways, walkways, or around other plants to add a burst of color and visual interest.
Attracting Pollinators: Hypericum's nectar-rich flowers attract pollinators like bees and butterflies, making it a valuable addition to a wildlife-friendly garden. Observing the fluttering activity of pollinators around your Hypericum plants adds a lively and dynamic aspect to your garden.
Cut Flower Arrangements: Hypericum's striking blooms make it an excellent choice for cut flower arrangements. Including Hypericum in your floral arrangements brings a touch of the outdoors into your home, allowing you to enjoy its indoor and outdoor beauty.
Naturalizing and Informal Landscaping: If you have a more natural or informal garden style, Hypericum can create a relaxed and effortlessly charming landscape. Plant it in groups or drifts within meadow-like areas to mimic its native habitat.
Erosion Control and Slopes: Hypericum's deep root system and dense growth habit make it suitable for stabilizing soil on slopes and preventing erosion. Plant it on hillsides or embankments to help anchor the soil and minimize runoff. As it establishes, Hypericum's roots will contribute to soil health and stability.
Container Gardening: Certain dwarf or compact varieties of Hypericum can be grown in containers, adding color and texture to your patio, balcony, or deck. Pair them with other container plants to create visually appealing arrangements that thrive in confined spaces. Hypericum's adaptability to container gardening allows you to enjoy its beauty even if you have limited garden space.