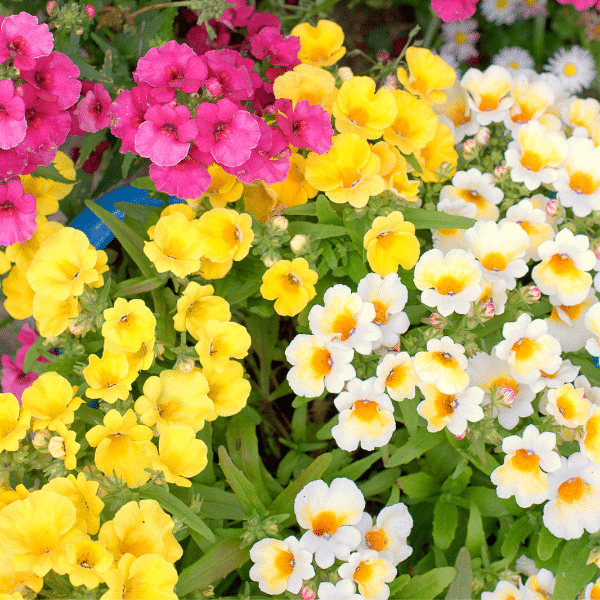 Nemesia is a genus of flowering plants in the family Scrophulariaceae, also known as the figwort family. These plants are native to South Africa and are known for their colorful flowers that bloom profusely in the spring and summer and their fragrant, sweet scent. This honey-like scent is similar to vanilla or fruit and is particularly strong in the evening, attracting moths and other nocturnal pollinators.
Leaves and Flowers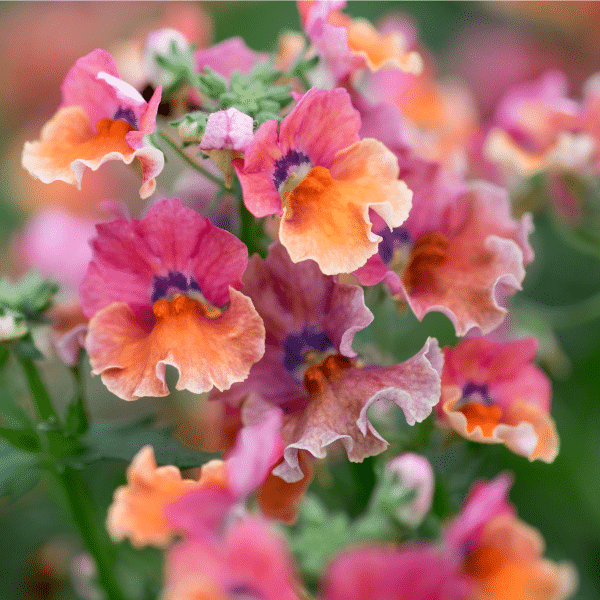 When it comes to the foliage of Nemesia, the leaves are typically lanceolate and deep green. The leaves are arranged opposite each other along the stems, giving the plant an organized and symmetrical appearance. The foliage is slightly sticky to the touch due to the presence of glandular hairs, which can deter certain pests. The leaves add a lush and verdant backdrop to the vibrant flowers, creating a visually appealing contrast in the garden.
Nemesia is known for its stunning flowers, which come in an array of colors, including pink, purple, white, yellow, and orange. The blossoms are often bi-colored or multi-colored, displaying intricate patterns and markings. As mentioned previously, these flowers are excellent for attracting pollinators.
Growing and Caring For Nemesia
Nemesia thrives in areas with cool summers and mild winters, making it suitable for both garden beds and containers. When it comes to soil, Nemesia prefers well-draining soil that is enriched with organic matter. Ensure the soil is slightly acidic to neutral, with a pH level between 6 and 7. If your garden soil tends to be heavy or clayey, consider amending it with compost or well-rotted manure to improve drainage.
When planting Nemesia, choose a location that receives ample sunlight, preferably 6-8 hours of direct sunlight per day. While Nemesia can tolerate partial shade, it blooms best with sufficient light. Plant the seedlings or young plants after the last frost date in spring, or sow the seeds directly into the soil a few weeks before the expected frost-free date.
Watering is crucial for the healthy growth of Nemesia. Keep the soil consistently moist but not waterlogged. Aim to water deeply, allowing the water to penetrate the root zone. Regular watering is essential during dry spells or prolonged periods of heat. Avoid wetting the leaves when watering, as this can promote fungal diseases.
In order to promote healthy growth, consider fertilizing your Nemesia plants every 4-6 weeks during the growing season. Choose a balanced, water-soluble fertilizer and follow the instructions on the packaging for application rates.
Watch out for common issues such as aphids, snails, slugs, and powdery mildew. Regularly inspect the plants and take appropriate measures at the first sign of trouble. Applying organic insecticides or fungicides or companion planting techniques can help keep these problems at bay.
In colder regions, Nemesia is often grown as an annual, as it may not survive frost or prolonged freezing temperatures. However, in milder climates, it can be grown as a perennial, returning year after year with proper care and protection during winter.
Nemesia Strumosa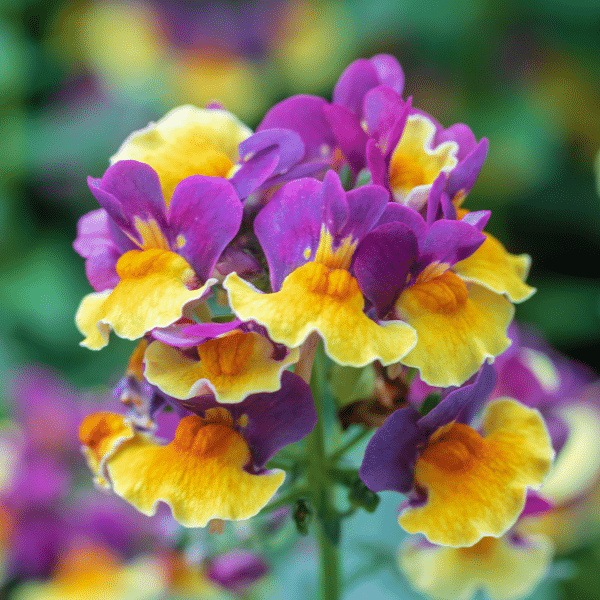 There are over 50 species of Nemesia; the most commonly cultivated is Nemesia strumosa, also known as baby eyes or pinwheel flower. This annual plant grows up to 20 inches tall and 12 inches wide, producing a profusion of small flowers in shades of blue, pink, purple, white, and yellow. These flowers are clustered along the stem and bloom from spring to fall, attracting butterflies and other pollinators.