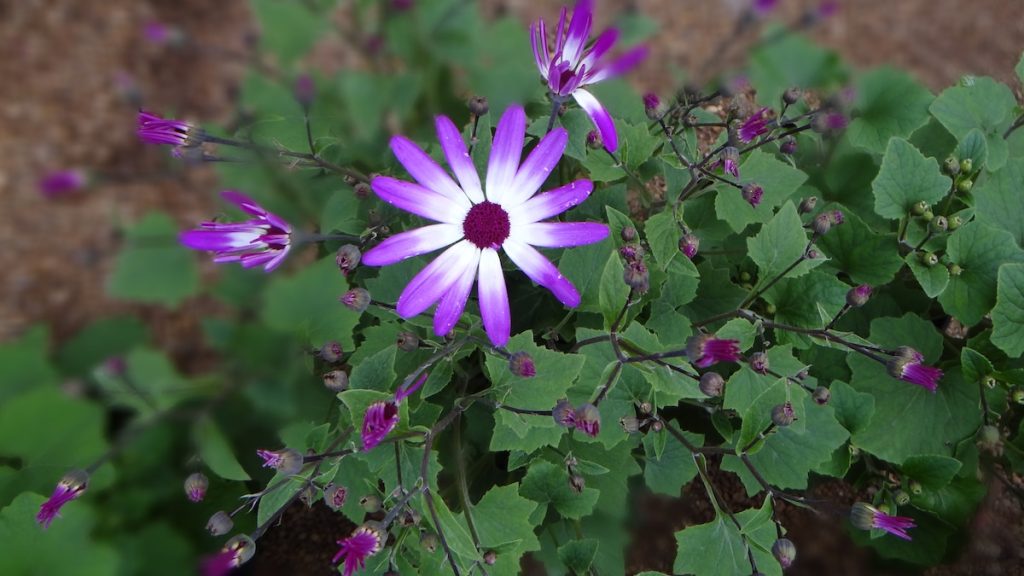 Osteospermum, commonly known as African Daisy, is a striking and versatile flowering plant native to South Africa. Osteospermum belongs to the family Asteraceae and is known for its daisy-like flowers that come in dazzling purples and blues to bold oranges and yellows. Osteospermum is known for its versatility, as it can be grown as a perennial, annual, or shrub, depending on the climate and growing conditions.
One of the key features of Osteospermum is its stunning flowers. The flowers of Osteospermum have a distinctive daisy-like appearance, with a central disc surrounded by ray-like petals. The petals can be single or double, and they come in an array of colors, including purple, blue, pink, white, orange, and yellow. The flowers are typically large and showy, making them a focal point in any garden or landscape. In addition, pollinators such as sees and butterflies are often drawn to its colorful flowers.
In colder climates, Osteospermum is often grown as an annual, as it is not frost-tolerant and will not survive freezing temperatures. However, in warmer climates, it can be grown as a perennial, returning year after year with proper care. Osteospermum can also be grown as a shrub, with some varieties reaching a height of up to 3 feet, making them an excellent choice for adding structure and size to garden beds or borders.
Osteospermum prefers full sun and well-drained soil, though it can tolerate many soil types. This plant is drought-tolerant once established, making it a suitable choice for xeriscaping or water-wise gardens. However, allowing the soil to dry out between waterings is important. Osteospermum also benefits from regular deadheading, which involves removing spent flowers to promote continuous blooming. Pruning can also help maintain a compact and bushy growth habit.
Osteospermum is an excellent addition to any landscape, as it offers a variety of uses. Its vibrant flowers make it an eye-catching plant for garden beds, borders, and containers. It can also be used in rock gardens, cottage gardens, and coastal gardens, as it can tolerate salt spray and windy conditions. Osteospermum is often used as a groundcover or a low-growing shrub, as it can form dense mats of foliage that help suppress weeds and erosion. Its long flowering season, which typically lasts from spring to fall, provides continuous color and interest in the garden.