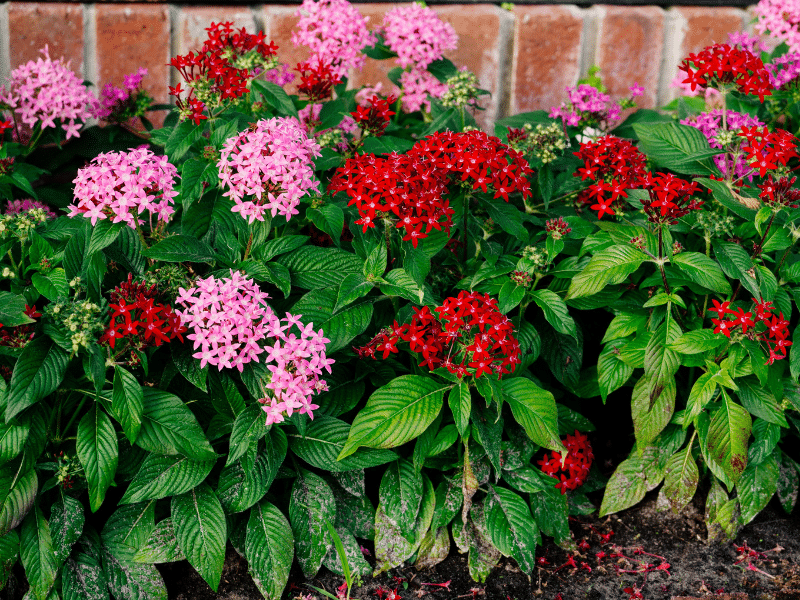 In the realm of gardening, few plants can match the vibrant charm and enduring beauty of Pentas. Known by its botanical name Pentas lanceolata, this tropical beauty belongs to the Rubiaceae family and is cherished for its dazzling flowers, lush foliage, and versatile nature. 
Preferred Growing Conditions
Pentas thrives in warm, tropical/subtropical climates, making them a favorite for gardens in regions with ample sunlight and mild winters. Native to Africa and the Arabian Peninsula, these plants have adapted well to a variety of conditions. They prefer well-draining soil enriched with organic matter and flourish when exposed to full sun or partial shade. Pentas are versatile in their adaptability, making them suitable for both container gardening and garden beds, ensuring a splash of color in various outdoor settings.
Caring for Pentas requires attention to a few key factors. Regular watering is essential, especially during the plant's early growth stages. However, overwatering should be avoided, as Pentas prefer slightly dry conditions between watering sessions. Applying a layer of mulch around the base of the plant helps retain soil moisture and regulates temperature fluctuations.
Fertilization is another critical aspect of Pentas' care. Using a balanced, slow-release fertilizer encourages healthy growth and abundant flowering. Pruning spent flowers and removing any dead or yellowing leaves enhances the plant's appearance and promotes continuous blooming.
Leaves and Flowers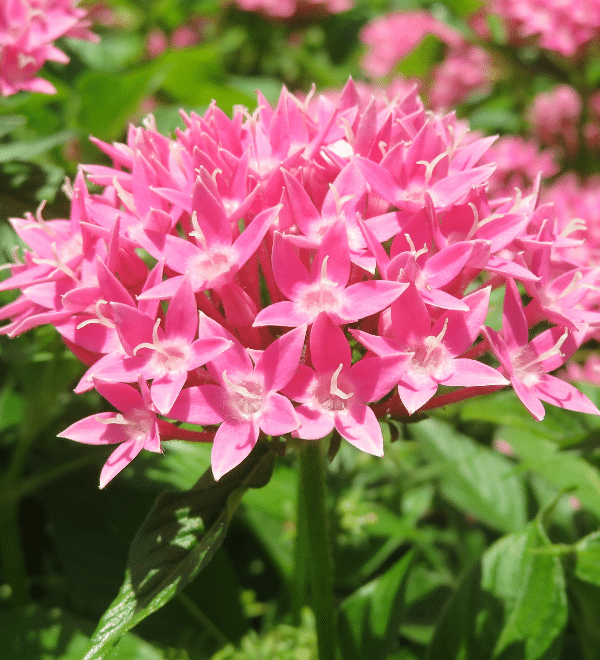 Its foliage is marked by lance-shaped, dark green leaves that form a dense and attractive backdrop to the vibrant flowers. The leaves are often arranged in opposite pairs along the stems, giving the plant an organized and symmetrical appearance.
The flowers of Pentas come in various hues, including shades of red, pink, lavender, and white. They cluster into tight, spherical umbels, creating a striking visual spectacle. These blooms attract pollinators like butterflies, bees, and hummingbirds, making them a valuable addition to any pollinator-friendly garden.
Uses in the Garden
Pentas is a versatile choice for both aesthetic and functional landscaping. As a bedding plant, Pentas forms colorful and lush patches that can be used to create borders, edgings, or mass plantings. Their compact growth habit also makes them excellent choices for container gardening, adding vibrant accents to patios, balconies, and entrances. Pentas also contributes to biodiversity and ecosystem health by attracting pollinators. Their resilience in warm climates and ability to withstand some degree of drought makes them ideal for xeriscaping and water-conservation efforts.