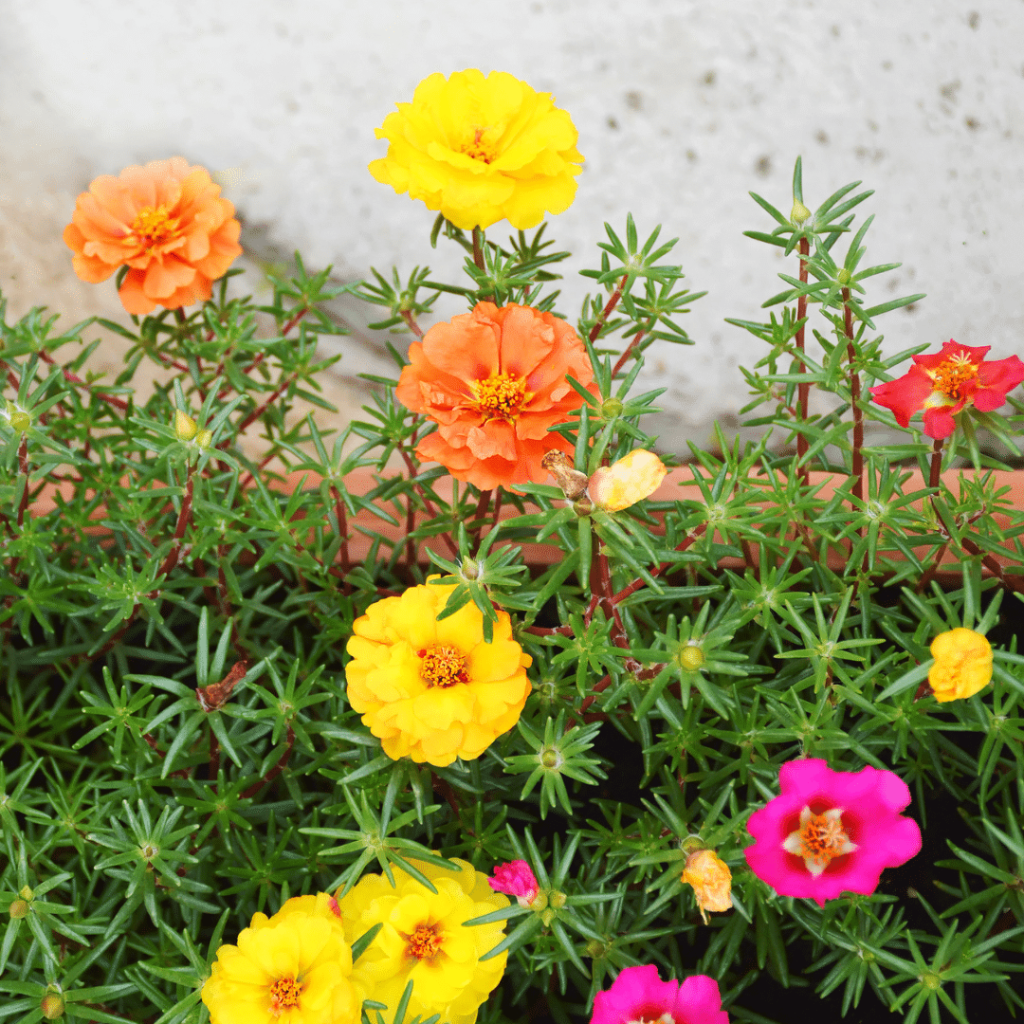 Portulaca, also known as Purslane or Moss Rose, is an annual plant known for its bright and colorful blooms. It is commonly used as a colorful ground cover or a trailing plant in hanging baskets and containers. Portulaca can thrive in hot and dry conditions, making them an excellent choice for drought-tolerant gardens.
Size and Shape
The plant's overall size can vary, typically reaching a height of 4 to 8 inches (10 to 20 centimeters) and spreading up to 12 to 24 inches (30 to 60 centimeters) wide. Its compact nature and trailing habit lend themselves well to creating eye-catching displays.
Leaves and Flowers
Portulaca showcases petite, succulent leaves that are cylindrical or needle-like, creating a delightful texture. These leaves often form dense, low-growing mats or trailing vines, making Portulaca an excellent choice for ground cover or cascading from hanging baskets.
The plant starts to bloom in mid to late summer, and the flowers will continue to bloom until the first frost. The flowers are small and cup-shaped and bloom in shades of pink, red, orange, yellow, white, and various bi-color combinations. The flowers are typically about an inch in diameter and have a delicate, papery texture. Portulaca flowers are unique because they open during the day and close at night, earning them the common name "moss rose." Deadheading or removing spent flowers can encourage more blooms and help maintain a tidy appearance.
Growing Conditions
Portulaca is a low-maintenance plant that thrives in hot and sunny conditions. Make sure to plant them in a sunny location that receives at least 6 to 8 hours of direct sunlight each day. These drought-tolerant plants prefer well-draining soil with sandy or gravelly texture. Water the plants sparingly, allowing the soil to dry out between watering sessions. Fertilizer application is generally unnecessary, as excessive nutrients can lead to excessive foliage growth at the expense of flowers. Deadheading spent blooms will encourage continuous flowering and maintain the plant's neat appearance.