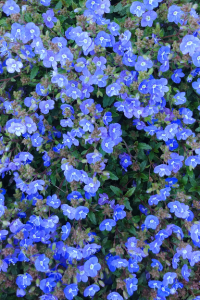 Speedwell, also known as Veronica, is a delicate and charming flowering plant that belongs to the Plantaginaceae family. With its dainty flowers, vibrant blooms, and rich history, Speedwell is a favorite of many gardeners. It is a perennial that typically grows in temperate regions of the Northern Hemisphere, including North America, Europe, and Asia.
The plan has slender stems, oval-shaped leaves, and clusters of small, tubular flowers that bloom in shades of blue, purple, pink, or white, depending on the species. The flowers of Speedwell are known for their intricate patterns and details, with a prominent lower lip and a smaller upper lip that gives them a unique and alluring appearance.
Speedwell is a hardy plant that is relatively easy to grow. It prefers well-drained soil and thrives in full sun to partial shade. It can be propagated by seeds or by dividing established clumps. Once established, it can tolerate drought and cold temperatures. Some popular species of Speedwell for gardening include Veronica spicata, Veronica gentianoides, and Veronica peduncularis, each with unique characteristics and charm.
As a flowering plant, Speedwell plays a vital role in supporting biodiversity and providing habitat and food for various insects and animals. Bees, in particular, are attracted to the nectar-rich flowers of Speedwell, which serve as an essential food source for their survival and aid in pollination, contributing to the reproduction of other plants in the ecosystem.
Speedwell has also been used in folklore and mythology. In medieval times, it was thought that Speedwell could help travelers find their way home safely, and it was often used as a talisman or carried by those embarking on a long journey. The plant was also believed to have magical properties and was associated with protection, luck, and love. In some cultures, Speedwell was even used in love spells or in divination rituals to attract a desired partner.