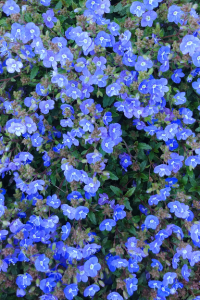 Speedwell, also known as Veronica, is a delicate and charming flowering plant that belongs to the Plantaginaceae family. This perennial plant typically grows in temperate regions of the Northern Hemisphere, including North America and Europe. With its dainty flowers, vibrant blooms, and rich history, Speedwell is a favorite of many gardeners.
Leaves and Flowers
The plan has slender stems, oval-shaped leaves, and clusters of small, tubular flowers that bloom in shades of blue, purple, pink, or white, depending on the species. The flowers of Speedwell are known for their intricate patterns and details, with a prominent lower lip and a smaller upper lip that gives them a unique and alluring appearance.
Preferred Growing Conditions
In terms of sunlight, Speedwell prefers to bask in full to partial sun. It thrives in areas that receive at least six hours of direct sunlight per day, although it can tolerate some shade, particularly in hot summer regions. When planted in the right spot, Speedwell's foliage remains lush, and its blossoms are abundant, creating a picturesque display in garden beds, borders, and even containers.
Speedwell thrives in well-draining and moderately fertile soil. While it can adapt to a range of soil types, it truly flourishes in soils that are slightly acidic to neutral. Adequate drainage is crucial, as stagnant water around the root system can lead to root rot. While it requires regular watering to establish itself, the soil should not be consistently moist. Allow the soil to dry slightly between waterings, as this replicates the natural conditions of its native habitats. Applying a layer of mulch around the base of Speedwell plants can help retain soil moisture and regulate temperature fluctuations, promoting overall health and vitality.
Cultural Significance
In medieval times, it was thought that Speedwell could help travelers find their way home safely, and it was often used as a talisman or carried by those embarking on a long journey. The plant was also believed to have magical properties and was associated with protection, luck, and love. In some cultures, Speedwell was used in love spells or divination rituals to attract a desired partner.